A new study from Juniper Research forecasts advertisers will lose $42 billion of ad spend globally in 2019 to fraudulent activities committed via online, mobile and in-app advertising. Despite the evolving preventing measures and initiatives, advertising fraud still stays a major issue and becomes more sophisticated each year.
As at Affise we aim at creating a stronger and better affiliate ecosystem, eliminating fraud has become a challenge we had to address. First, we integrated with the best fraud prevention tools in the industry, so that our user can choose the technology they prefer to work with. But now we've gone even further and released our own preventive weapon – Click-Level Fraud Prevention Tool.
What is Click-Level Fraud Prevention Tool?
A new click-level fraud prevention tool helps Affise's users to reduce fraudulent traffic by filtering VPN, non-earmarked traffic from proxies, bot traffic etc. The system detects fraudulent traffic in real-time, block it and doesn't allow it to reach the destination website. It goes without saying that these measures increase CR of your ad campaigns, and the advertisers get higher quality traffic to their offers.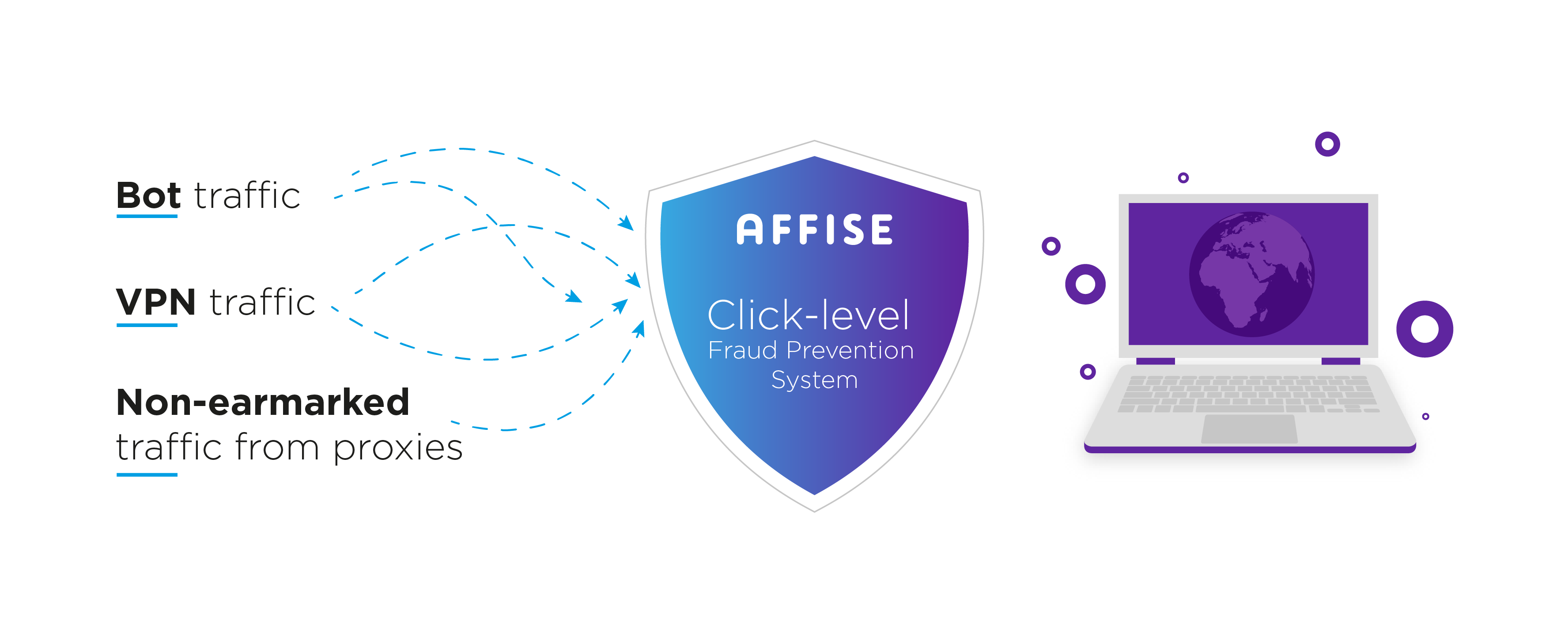 How Click-level Fraud Prevention Tool Works
How Does It Work?
Click-Level Fraud Prevention Tool is made with Digital Element's IP intelligence, which is the best IP geolocation data provider trusted by Adobe, Facebook, Pinterest, LinkedIn, Videology, MediaMath, BBC, Discovery Networks, Hubspot among the others. By utilising their granular IP intelligence we are able to offer the best possible solution to our clients, increasing both their performance and reach.
Digital Element's NetAcuity® IP Intelligence and geolocation technologies provide information about online users including location, connection type, and proxy data to name a few. All of this information is collected solely from a user's IP address, providing strong authentication of user identity without violating user privacy. This accurate and reliable information about online users helps to break down the anonymity barriers of the Internet and proves to be an integral and necessary part of any online security or fraud prevention strategy.
Using Click-Level Fraud Prevention You Get:
More balanced risk management where geolocation information is used to identify and allow legitimate accounts access or identify and reject fraud sources;

Enhanced identity verification that prevents access from non-targeted or high-fraud areas;

Detection and prevention of non-earmarked traffic from proxies.
To leverage Click-Level Fraud Prevention Tool, go to offer's setting page and activate it in a panel: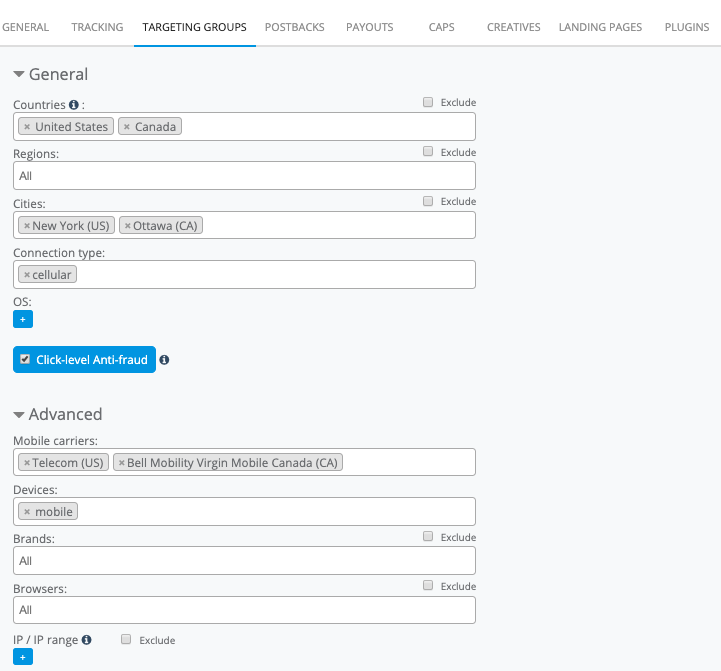 If you require any further information on Click-Level Fraud Prevention tool at Affise – feel free to contact support@affise.com or ask your account manager.