Affiliate marketing attracts a lot of product owners, as it is one of the most effective ways to reach wider audience and make a bigger profit. But how complicated is it to start promoting your products through affiliates? When you enter the industry you need to consider numerous issues from building relations with affiliates and choosing a payment scheme to tracking methods and technical capabilities. And of course, the biggest question is which affiliate marketing software to choose.
Why do you need an affiliate software?
Affiliate marketing software will automate and run all relevant tasks for you. It provides everything to manage, track, analyse and optimise your online advertising campaigns in real-time. Using it you will be able to:
track the performance of your campaigns with embedded analytics tools

manage offers, creatives, affiliates and campaigns

set rules for advertising campaigns and run them accordingly

make payouts to your partners

keep the records of all advertising campaigns in one place
In-house & SaaS Solutions
The most fundamental is the technology type itself, you can either build your own in-house solutions or use already functioning SaaS platform.
An in-house solution is attractive in terms of having your own server with your own database. You don't store any data or statistics on servers of the affiliate software provider. Everything is under your control. But at the same time, it is pretty troublesome as you are the one responsible for all updates, settings, errors etc.
The other option is a Software-as-a-Service (SaaS) platform, which is installed and hosted on the software's servers. There is no complicated software installation, what guarantees you a quick start. SaaS platforms are subscription-based, what means lower initial expenses. Instead of directing resources to building something from a scratch, you concentrate on building relations with affiliates and promoting your products. SaaS provider is responsible for all updates and upgrades and any technical support you may need.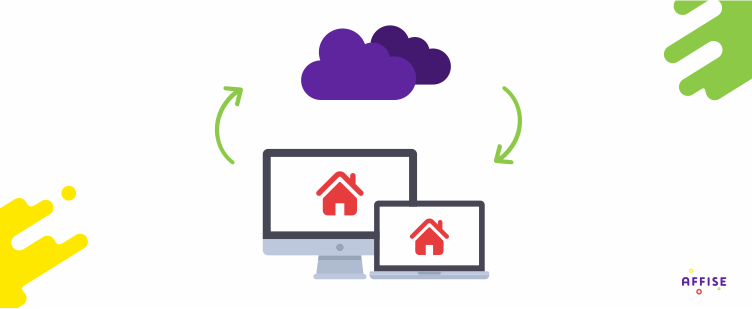 The amount of issues to consider in advance might sound alarming, especially for those who is just about to start. But if you approach this responsibly and choose a reliable software provider, you have nothing to worry about.
In Affise we have very diverse experience of working with different clients, from small-scale to large-scale companies. We can say that we know how to help our clients grow quickly. We know which concerns and needs newcomers in this business have and respectively we know how to adjust our services to address them.
Don't be scared away with the complexity of the processes. Affiliate marketing platforms are usually designed with all business needs in mind. At least we can say that Affise is designed in this way.
With Affise platform it's easy to start managing your ad campaigns and here we will give you a few reasons why:
It's smart and easy to use
With Affise you can start your business and get first revenues in less than 72 hours. Have doubts? Check out the ultimate guide on how to create your own affiliate program as easy as one, two, three. Besides, you will have a dedicated onboarding specialist who will lead you through the whole setup process.
Useful insight: The most common and time-consuming challenge when starting a campaign is to pull all your offers. Affise created a tool, CPAPI, that solves this issue. It is a technology that enables prompt transfer of all your offers and import of existing affiliates/advertisers profiles into our platform.
Affise will become a part of your team in a way
If you are not sure about something, there is always a dedicated team of an onboarding specialist, customer success and technical support managers. They will help with all integrations and setups, carry out any needed demonstration or training calls, monitor your accounts and give recommendations. You can rely on our support 24/7.

The whole package
Affise platform covers different business models, such as CPA, CPL, CPI etc. You can run different verticals and directions through Affise. Further, you also get a feature-rich platform with statistic analysis, Smartlinks, cap management, KPI section, smart targeting, API, 3rd party integrations like automated offers pulling, billing tools, fraud detection, CRM integrations etc. Everything that you need for affiliate marketing business is here.
The important moment is that Affise was the first to introduce the conversion based pay model which is a low risk for clients. And even now one of just a few who provides it. With this model, you can forget about overpaying.
We share our industry expertise to make our clients proficient users
Affise created a dedicated Academy with the purpose of knowledge-sharing, where customers can learn and train their employees. Additionally, Affise provides a lot of helpful documentation, knowledge base and video guides.
You may wonder what the starting package is and which options will be available to switch to when your business starts multiplying. There are different packages Affise can offer depending on clients' business needs. And we guarantee to help with choosing the most suitable. You can check the Affise website or contact us for more information and free trial.