Mobile devices are expanding their influence in digital marketing every year. Mobile marketing has already become of utmost importance to any brand. Yet, new mobile technologies appear frequently, the first 5G networks gain traction in some countries, and ways of advertising through mobile devices are also improving.
Things that are happening now in mobile marketing directly depend on users' behavior. Browsing the web has become faster and scattered across many devices. Marketers need to understand the whole journey of a customer from getting inspiration and the idea to the actual purchase.
Given these and many other factors, here is how we predict mobile marketing trends for 2020 and beyond.
Omnichannel Marketing
The basic concept of omnichannel marketing is to combine all marketing channels into one seamless experience for the consumer. To embody this principle, you need to have a clear idea of ​​the journey that a potential customer follows in digital space before making a purchase.
There are plenty of accessible channels for marketing activities today. You can't ignore a single step that the client takes throughout the transaction. Even one missed compound can destroy the whole chain and create a negative experience.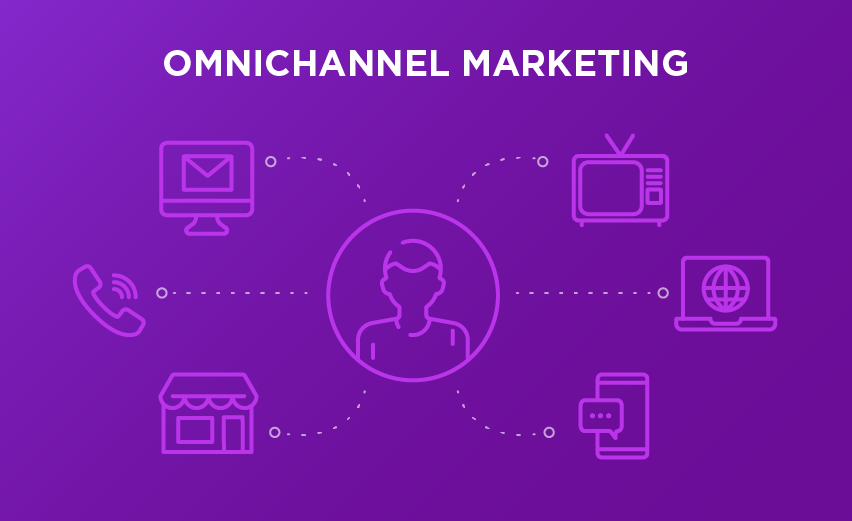 Let's take a look at how the process might be. First, before making a purchase, a person reads about the product on the website from the desktop computer. Then, on the way home from work, the consumer adds the product to the online store basket from his mobile device. Next, the client can make a purchase immediately after installing the brand's mobile app to register via Apple ID or Facebook profile quickly. After all, this may not be the last stage of interactions. After paying the check, the buyer begins to communicate with the courier in a messenger. Also, the client can receive a personal email with new commercial offers or recommendations for him.
There are many advantages to an omnichannel strategic approach. You are most likely to increase the conversion of your leads and also lower your churn rate. But you need to understand the whole journey that your customers go through and make every step for them convenient and simple on every possible device.
Augmented Reality (AR)
Many people already know how AR works due to the popularity of gaming applications such as Pokemon Go. The technology allows to display virtual objects in real-world surroundings by using a smartphone camera. However, not so many people today know how good AR fits into the marketing world.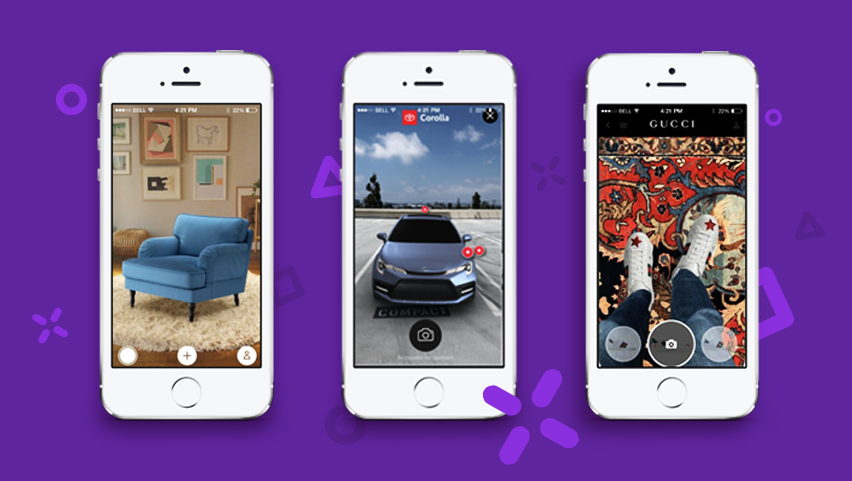 Would you like it if a piece of furniture or new clothes or even a car has appeared visually in your living room through the screen of your mobile device? Customers can do AR shopping wherever they are right now! The Italian fashion brand Gucci threw an iOS app that allows customers to try on shoes from their Ace collection. Another example, IKEA Place app, which lets you put virtual IKEA products in your real room. Also, Toyota's immersive AR experience that brings virtual vehicles up close at your magazine table without even installing an app.
The beauty industry deserves special attention when talking about this technology. In this domain, AR has found the most successful applying. Currently, big brands are investing in start-ups that work on technologies allowing you to see how cosmetics, hairstyles, and jewellery will look on you. In early 2019 fashion brand L'Oréal acquired AR and Artificial Intelligence (AI) entity ModiFace, which develops custom apps for brands like Amazon, Sephora, Estée Lauder, and many others.
Sure, this technology doesn't fit all areas of marketing, but when it does, it works excellent. Augmented reality and the use of a mobile device's camera to get additional information about products and brands is a consumer tool of the present and near future. Besides, AR increases people's engagement rate enormously. There is no doubt that this mobile marketing trend will continue to develop and grow its influence on the whole industry in 2020.
New Search & Payment Methods
The daily life rhythm and our demands for flexibility are continually growing. Searches via mobile devices for "the best right now" have doubled in the past two years. Customers' attitudes toward brands and the popularity of specific products are changing faster now. Following that, the search methods are changing too. These days, consumers search for local commercial information using voice & visual searches.
More & more people using voice search for their shopping lists and to make purchases. Keen marketers already optimize their web touchpoints for voice search. Besides, the rise of smart speakers much likely will increase voice search usage not only in the US but worldwide. In case of a visual search, you can point your phone camera to any object around you to associate web search. Such image recognition technologies as Google Lens probably will encourage marketers to invent new ways to set up advertising campaigns based on visual search.

Additionally, the arrival of digital wallets like Apple Pay and Google Pay, as well as other payment methods, open up full scope not only for consumers but also for marketers. Many more large brands may begin to create their payment methods and currencies to keep customers in their system using various bonuses. Notably, social commerce will continue to develop, and the integration of shopping baskets will go with the opportunity to buy goods through social networks directly.
The advent of new payment methods creates many areas in which it will be reasonable to improve marketing strategies to reach all your future customers.
Mobile Privacy & Ad Fraud Prevention
The growing desire of people for digital privacy and the constant emergence of new regulations and restrictions will substantially dictate how marketers will collect and use data in 2020. Standards such as Apple Intelligent Tracking Prevention (ITP) will reduce available data and very likely to raise prices for high-quality third-party data and location-based advertising. Also, the hardening of the privacy laws should increase the use of contextual advertising and push companies to use their first-person data.
Ad Fraud is by no means a new trend, but it's still one of the biggest threats that marketers face. Fraudsters are still developing improved ways to commit fraud schemes that are difficult to detect. Yes, with all the latest solutions out there, we're getting better at reducing Ad Fraud, but further automation of fraud detection and prevention will be among the top priorities for marketers. Again, like last year, 2020 will be about finding the best algorithms to block fraudulent actions at all possible levels.
Brands need to be more intelligible about how the processes work too. Those who will have the best methods and tools at his hands to prevent fraud will be more successful in mobile marketing in 2020.
AI-based Tracking & Analysis
Hard to imagine a competitive product in mobile marketing in 2020 without high-level tracking & analytics and automation of these two processes. Monitoring and analytics of statistical data can significantly improve your marketing campaigns. But could tracking and analysis be further enhanced, and how?
We're sure, there is always room for improvement both for tracking and analytics! For example, many popular mobile applications have their built-in browsers with their unique history and cookies. Add to this specific detail the omnichannel factor, which we wrote about above, and things start to get more complicated. So, tracking consumer preferences on all possible apps, browsers, and devices, as well as combining all the data into one big picture, will be the main priority for all marketing solution developers in 2020. In this case, it's unlikely to execute the task without the help of artificial intelligence (AI) and the processes' automation.
AI-based analytical tools are capable of processing vast amounts of data and predicting further actions based on past decisions and performance. This solution allows you to automate the development of each offer for affiliates. Also, marketers may improve their advertising campaigns based on the current needs of their customers without dealing with a massive amount of data manually.
Collaboration with the most advanced automated tracking and analytics solutions will undoubtedly remain one of the top mobile marketer's priorities in 2020.
Do you know the future trends in mobile marketing that we missed or didn't mention in this article? Let us know in our social media communities what trends await mobile marketing this year, in your opinion!