It goes without saying that an affiliate manager has lots of responsibilities every day: picking best offers and recommending them to publishers, setting up offers, API integrations, testing integrations, billing, deductions, optimizations and more. All of these tasks take lots of time and become a big challenge when deciding which are more important and where to invest more of your precious time.
Therefore, one of the key factors in running mobile CPI offers (Cost-Per-Install Advertising) and in general, concerning campaign performance, is optimization. Optimization can be done on different levels, and when done well, it will bring better results to your advertisers, which means more revenue for you.
With the goal of building the simplest, yet most powerful toolset for optimizing traffic, Israeli-based company, AdopSolutions has created a unique service for Affise clients. Not only does it extend the value for networks using Affise, but it also improves the quality of traffic and increases ROI by streamlining and automating the optimization process on 3 different layers.
Case #1: Traffic Sources Optimization
The typical way to optimize your advertising campaign is by aiming towards the advertisers' KPI (Key Performance Indicator). For example, you are working with a direct agency and they give you access to the tracker such as AppsFlyer, Adjust, Kochava or TUNE. On the tracking platform you are able to run reports showing how your traffic sources are performing. Then you can filter out sources that are not reaching the KPI and continue buying traffic only from the ones that are increasing your total retention rate.
This is, of course, an ideal situation. But, unfortunately, not all the time do you have direct offers with direct access to the data. More often, the feedback from the advertiser is sent via email manually and you could only hope that the data is not too old and that it's not too late for your traffic sources to be optimized. Then you log into your platform, say Affise, find the offer, block the sub sources and then send an email to your partners updating them that the sub source was paused. This can be a very time-consuming process, but it's essential for improving your performance and keeping the campaign active. Otherwise the advertiser will eventually cut you off from the offer.
AdopSolutions PRO Tip: Easily blacklist low-performing sources on one centralized page with Custom Optimizer tool, that automatically emails the publishers letting them know what sources they need to block in addition to the system blocking them at Affise. You can also enter feedback on why the source was paused and in the future, pull out a report with all your optimizations for better decision making.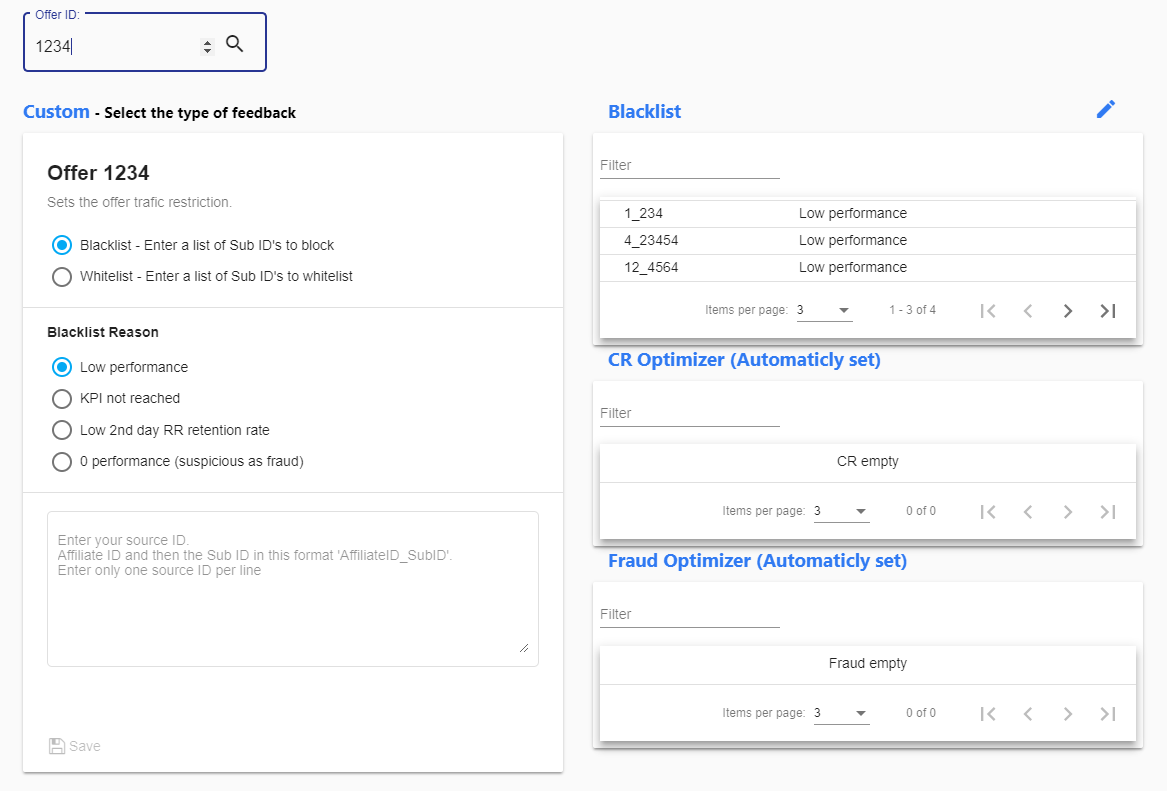 Case #2: CR Optimization
Another common way to optimize your advertising campaign is based on the CR (Conversion Rate) of the campaign broken down to the sub source of your publisher, also known as subID. The CR is the number of installs divided by the number of clicks. For example, if you have a subID that has brought 10 installs from 100 clicks, then the CR will be 10%. A 10% CR is considered to be very high, and most likely indicates that the traffic is incent. Needless to say, your advertiser won't be very happy about that. He may send you an email, sometime a day later, complaining why you are running his non-incent offer on incent traffic and that these installs will be deducted. The same goes for low CR. A very low CR can indicate bot or fraudulent traffic. To prevent this, some advertiser set a minimum CR, meaning that they won't pay for installs that have a lower CR then what they have stated in the offer restrictions.
AdopSolutions CR Optimizer Tool assures you meet your advertisers' goals. Set limits to alert and block sub publishers for high and low CR. The system will block the subIDs at Affise and send an email to the publisher with the blocked subIDs and the subIDs that need to be optimised. A click cap tool is included as well to allow you to block subIDs that are not converting.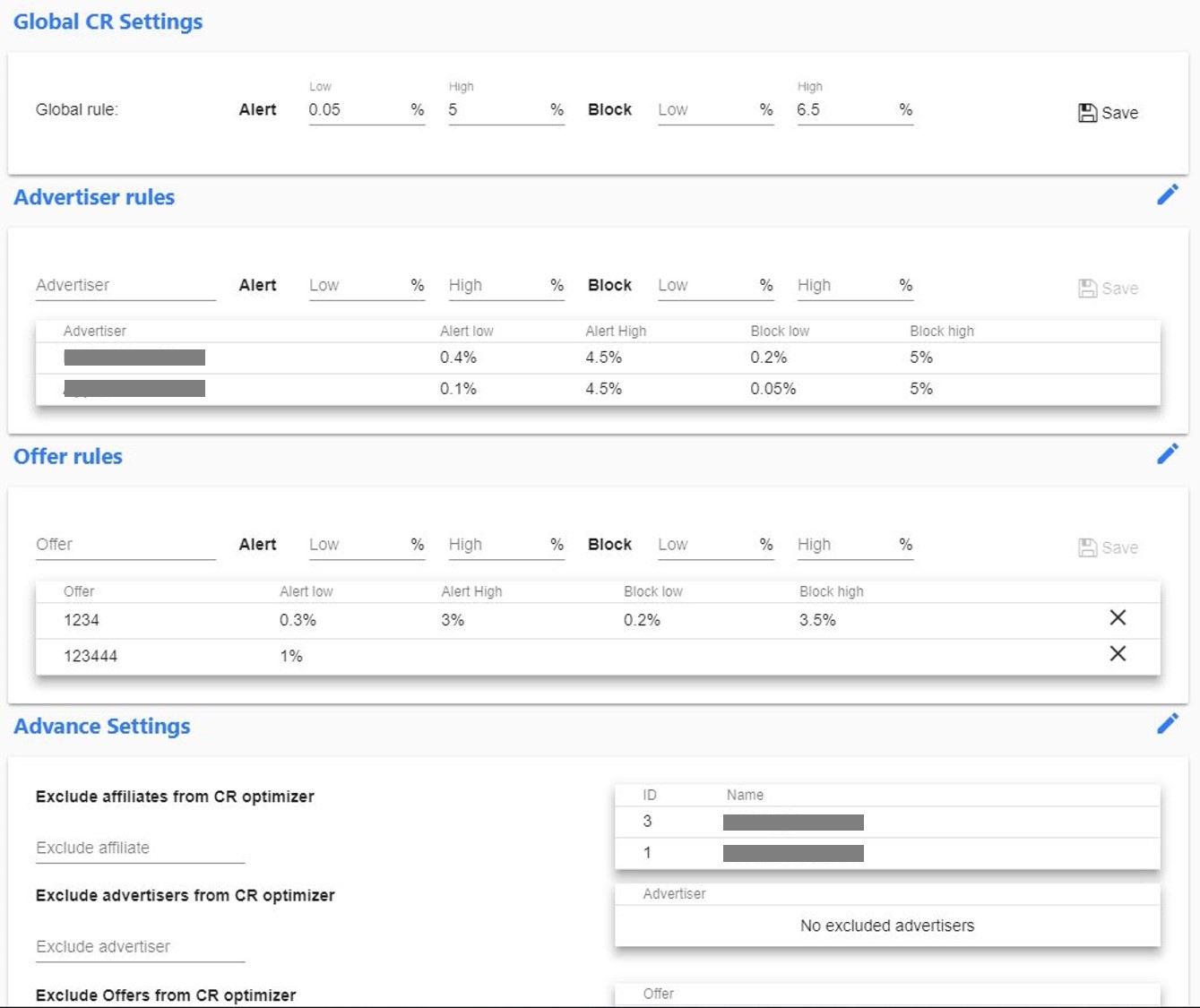 Case #3: Fraud
The biggest challenge of optimization today is, undoubtedly, fighting fraud. Some studies have shown that fraudulent mobile traffic reaches up to 50% of all traffic. It could be very frustrating to get huge deductions from your advertiser at the end of the month as a result of fraudulent activity. In order to fight back on fraud there are fraud detection solutions such as FraudScore and FraudShield that analyze all your data and give a score to the level of fraud. But it can take you a while to analyze this data, block inappropriate sources in your tracking system and finally send an email to update the publisher that they need to pause their subID's traffic as a result of suspicious fraud traffic. It would take a dedicated full time employee to run such an optimization process every hour, but if you fail to do so, you won't be able to catch them on time.
AdopSolutions PRO Tip: Using Fraud Optimizer you can set the threshold for automatically blocking fraud detected subiDs as well as automatic emails sent to publishers.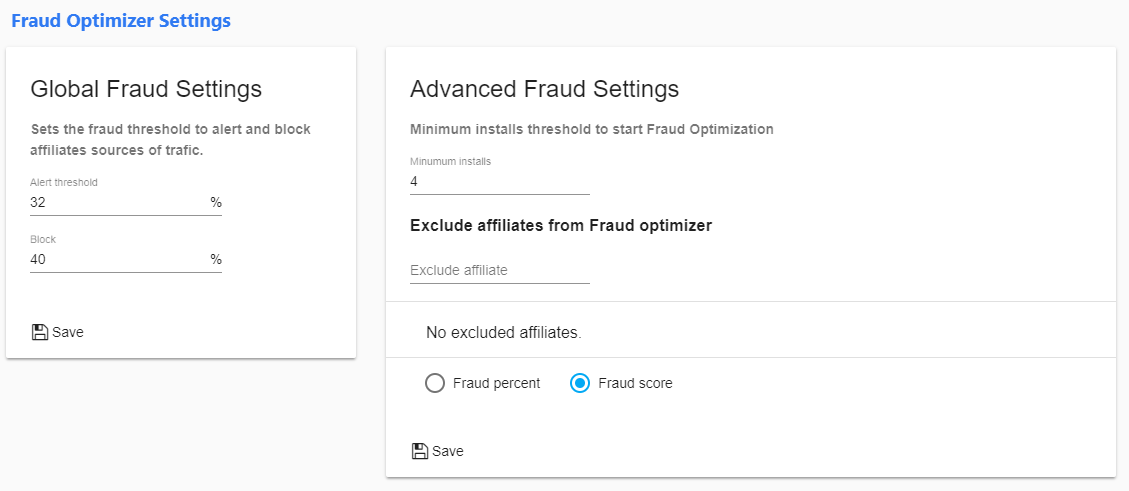 About AdopSolutions
AdopSolutions is a SaaS solution developed to help Affise users improve the quality of their traffic and increase ROI, reducing the number of deductions and saving valuable time on the daunting and repetitive tasks of optimizing campaigns. This is achieved by automating the optimization process. The features allow users to set Click Caps, Conversion Rates and integrate fraud tools to automatically block the low performing sub sources and notify them as well.
For more information about AdopSolutions Optimization Tools , please visit www.adopsolutions.com.