Every business requires a good marketing strategy, especially in the digital age where the competition is tight, and it is difficult to stand out. Customers are going online to research the product or service they are eyeing before they will make up their mind. Usually, they also make purchases online.
Businesses realize the importance of online presence. However, this particular scene seems to evolve continually and can become overwhelming to many. Growing your business means you need to keep up to date with the latest trends that define the digital landscape. How do you create and maintain your digital marketing strategy?
The infographic below created by the Serpwatch team lists current facts and statistics that can make or break your digital marketing strategy in 2019. In this infographic, you will learn how a successful marketing campaign should be run. Some of the tips you should keep in mind include the following.
Prioritize SEO
As one of the most important techniques in digital marketing, SEO paves the way for you to rank on the first page of search engine results, using a specific keyword that defines your business.
It is found that 75% of people never scroll past the first page of search engines and 80% of them also ignore paid search results, opting to click the organic listings instead. Added to that, 57% of B2B marketers cited keyword rankings as an effective lead generator, eclipsing any other marketing initiative.
Knowing these facts, it is only sensible that you prioritize SEO in your marketing strategy. Ranking high in search engine results will not only bring your site more traffic and attract potential customers, but it will also convert leads and increase your revenue.

Consider Video Marketing
When it comes to online content, 43% of people prefer to see more videos from marketers. It is also the type of content that they consume thoroughly. Interestingly, 64% of consumers made a purchase decision in the last month after watching a marketing video on Facebook.
Video marketing moves beyond social media. Research found that a site containing a video thumbnail can double its search traffic. In fact, video drives a 157% increase in organic traffic from SERPs.
As a marketer or business owner, you need to include video marketing in your strategy this year, especially if you look at the forecast for 2021 when videos are projected to represent 82% of all internet traffic.

Turn to Lead Generation
Many B2B businesses acquire leads through strategic landing pages. However, 61% of marketers have said that generating traffic and leads is their top challenge.
If you want to meet the challenge, you should consider developing your lead generation strategy by knowing your KPIs and exploring tools that can help you run campaigns more efficiently. The latter translates to investing in marketing automation tools for lead management.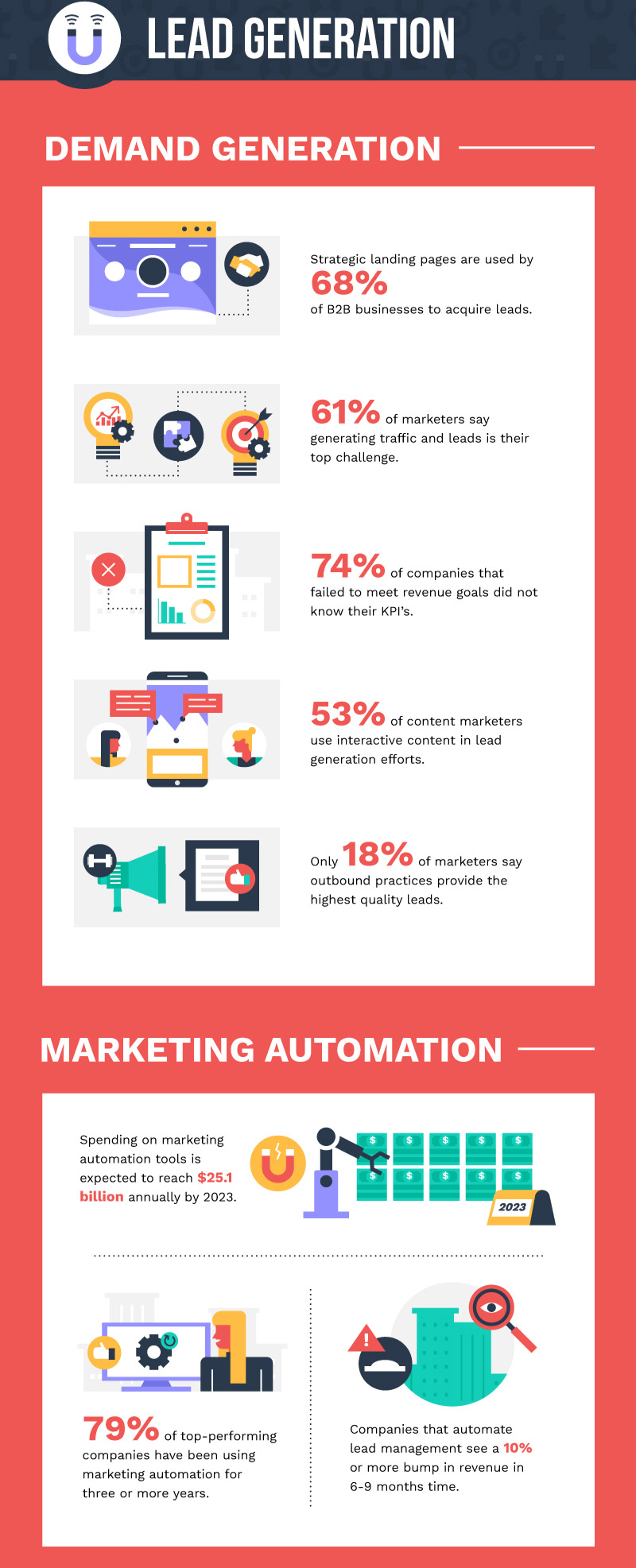 Check out the whole infographic to learn more.