As affiliate marketing continues growing and attracting more market players, it's also becoming more diverse technology-wise. This is fueled by the increasing amount of applications that need to be integrated and which are quite often of a different technology stack that further require different approaches in integrations. The solution to that diversification is API.
What is API?
API stands for Application Programming Interface, also defined as a set of subroutine definitions, protocols and tools that let applications communicate with each other mainly using XML or JSON. In simple terms, it is a tool that allows two applications to talk to each other.

Under today's IT market needs API is no longer considered as an added value, it is almost a must. The rapid technology development is moving towards the tendency that a business that doesn't use API is likely to die in 10 years.
The primary reason to use APIs is to send data from an in-house software program to the cloud and in reverse to pull it "from the cloud" to an in-house system.
Among other well-spread purposes are also:
-to expand the reach of the organisation by making their data available to users;
-to enable external developers to build products that are in some way reliant on the business;
-to allow 3rd party developers to release applications that display the same data with a custom presentation.
Affiliate APIs, or any other APIs, can be viewed as the best communicator solution between the technological sides of any services or products. While each industry has its specific complex technical requirements, APIs can find a key to every system and deliver the data in the way any interface understands it.
Even though APIs have been at the market rather long, they were not implemented immediately in affiliate marketing programs once this business appeared. However, with the affiliate marketing evolving, it started using APIs to automate a considerable part of business processes.
Advantages of APIs for the Affiliate Industry
Not only reduced manual work and smoother integrations!
Broad connectivity and access opportunities
Affiliate APIs are available for affiliate networks and their partners, which enables direct work with advertisers and reduces a great deal of manual work.
You can entirely rely on affiliate APIs with the accuracy of the data they provide. Statistics API collects, processes and displays traffic information in real-time. Affiliates can get reports in the selected format (XML, JSON), for a specified period and with the revenue in the chosen currency.
Affiliates get rapid data access with the possibility to make frequent calls to the systems and pull the needed amount of data for their business needs.
Transparency in data exchange
With the amount of data also comes responsibility. But affiliates and their partners can be safe here, APIs provide the transparency and security between networks, affiliates and advertisers in terms of the data that they use.
Before APIs, all changes in advertisement content were possible only through manual tasks. With APIs we can synchronise necessary applications with websites, whereafter you'll only need to change your data manually once to have it updated automatically across the entire ad network.
Utmost Personalisation and Targeting
Personalisation is a core element in online advertising, and here APIs can be of great use. It can help to find out websites visitors buying interests and later serve as a distribution tool displaying specified ads to the targeted audience.
With APIs solution you can pull all needed services together:
And that is absolutely true, as we see more and more APIs applications appearing in the affiliate marketing industry. And the more we explore, the more totally different APIs we found. Here are just a few examples of the most common ones.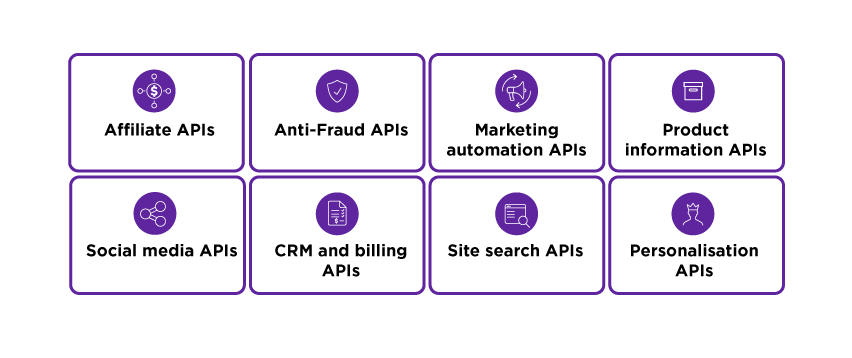 How do APIs operate in practice?
Wonder about practical usage of APIs? How does it really look like in practical terms? Let us give you an example.
Imagine a company selling bags, they have a webpage with bags catalogue. To achieve more extended market coverage and earn more they want to publish their products on Amazon. With the product APIs, they can connect the products from their webpage directly to the Amazon database. In this way, they will further seamlessly display the product brand images, detailed descriptions directly from a global database of products to their 3rd party listings.
To increase their brand awareness among buyers, they may take advantage of social media APIs integrations and leverage the social websites' power. Social media strengthen their brand in the consumers' mind with the essential trust signals such as Twitter comments, Facebook likes, Instagram pictures and product reviews. Further, these trust signals can be shared with customers by streaming social media feeds directly to the merchant's website and product pages with the help of social media APIs.
Together with social and personalisations APIs, we can better understand particular customers' needs by analysing their buying history and previous visits, and consequently, organise content on the website according to what they are looking for.
Marketing automation APIs may be useful for the company if they want, for example, to automate their email marketing efforts and personalise communication towards the products clients are interested in. Your potential customers will be automatically added to the email list and grouped in line with what they bought or how much time they spent on a particular website page or likewise. And of course fraud-defence. By integrating an anti-fraud API, you can count on APIs' algorithm to determine and block actions that raise any red flags for untrustworthy purchasing behaviour.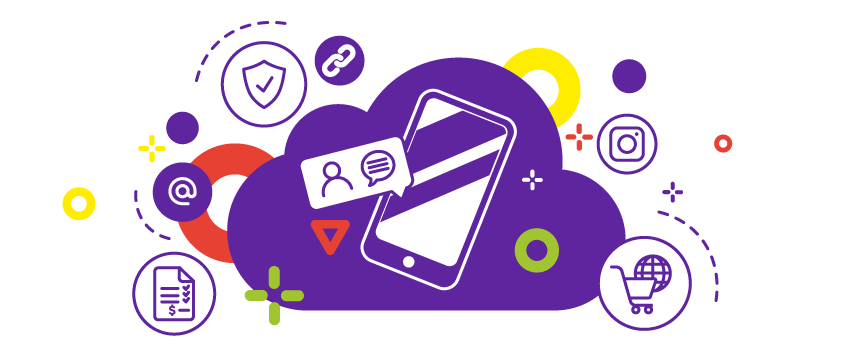 Affise API
As our clients manage hundreds of affiliates and advertisers with thousands of offers in total, for them it's essential to be able to do bulk actions, pull data, set billings and implement their custom solutions. And they need to do it quickly. Thus Affise worked hard to deliver a feature-rich API that addresses the requirements of all clients and their partners. With the help of Affise API, our clients can connect their tools to Affise system to make Affise affiliate platform and their custom solutions work together.
Affise's APIs Moto "Turning the troublesome integration into a smooth operation with a lasting outcome"
Among the most common reasons our clients start implementing APIs is the intention to reduce time spent on switching in-between systems and optimising the information; as well as on setting new integrations in a much easier and faster way.
Going into the details, you can find a lot of other reasons, which are either way still relevant to providing one-format data and facilitating integrations.
Why use Affise API:
-you aim to integrate your affiliate business with more than one service or industry application;
-you want to keep everything in one interface instead of maintaining different systems for every service separately;
-you don't want to be overloaded with the amount of work addressing the changes of 3rd party systems;
-you want to minimise the amount of time spent on every integration and be in a click away from it;
-you want your affiliates to be able to do frequent calls to your system and pull the needed data for your mutually beneficial cooperation.
If among these reasons there are some that you need for your affiliate business contact us and start benefiting from Affise features-rich API!