Regardless of whether you're running a campaign to acquire new users or boost brand awareness, the success of your performance marketing efforts largely depend on ensuring your ads reach the right types of audience. And here is where targeting features of performance marketing platform plays a crucial part, as they can help improve your overall campaign performance and eliminate wasted ad spend.
As the ability to connect marketers with specific types of audience is one of the key differentiating factors of publishers and affiliate networks, at Affise we are constantly looking for ways to improve our users' targeting capabilities. So, once we realised that our former targeting system no longer allowed our users to benefit from it, we've decided to make it more convenient and efficient for our users. It took us four months to deploy newest updates, but now we are ready to introduce Advanced Targeting Capabilities at Affise!
What's new?
Unified Targeting Form
As previously targeting features were located in different sections of offer's setting, it took more time to configure all the necessary parameters in the platform. Now the problem is solved, as with a new user interface all the standard targeting settings for offers fit into one convenient Targeting tab.
All the geo-targeting options from the Payouts tab will migrate to the Targeting tab and will affect the click flow. All the clicks that don't comply with the targeting settings in payouts will get to the fallback URL. That means that only the traffic that meets targeting GEO restrictions will get to the landing page. In case you would like to change these settings you can always do this by going to the Targeting tab and disabling the country from the targeting restrictions.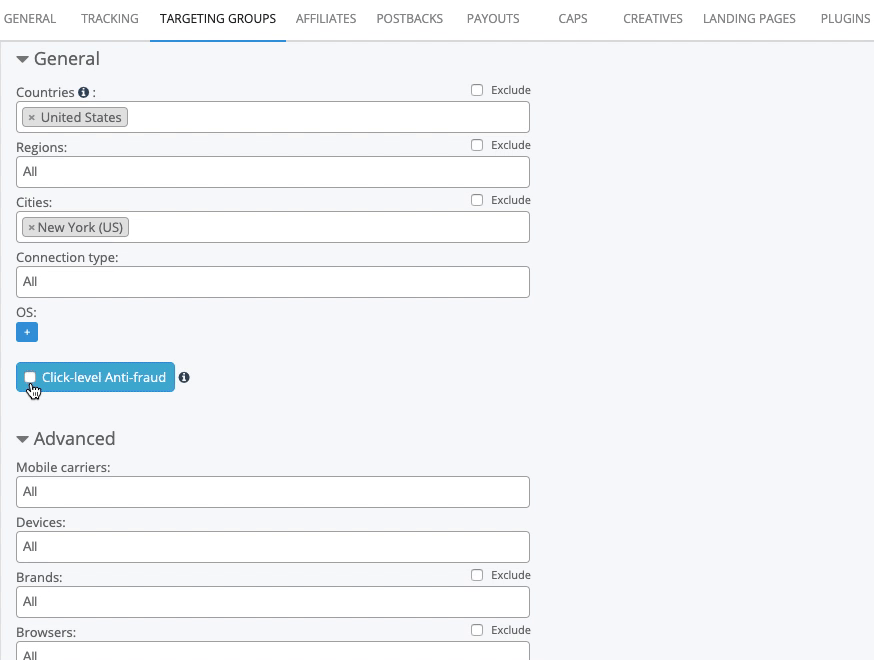 Extended Targeting Options
The more targeting options are available at affiliate platform, the more accurately you can target and reach the right types of audience. So now, apart from all the targeting options already built in the platform, you can also set up sub1-8, regions, cities and IP targeting. Besides, additional tracking link feature allows you to define different tracking URLs for different targeting groups and drive traffic depending on GEO, OS and other targeting parameters to these tracking URLs.
Personal Targeting Settings
From now on you can limit targeting restrictions to particular affiliates. It means that you can apply different targeting settings on general and personal levels, thus improving the effectiveness of traffic management within your network.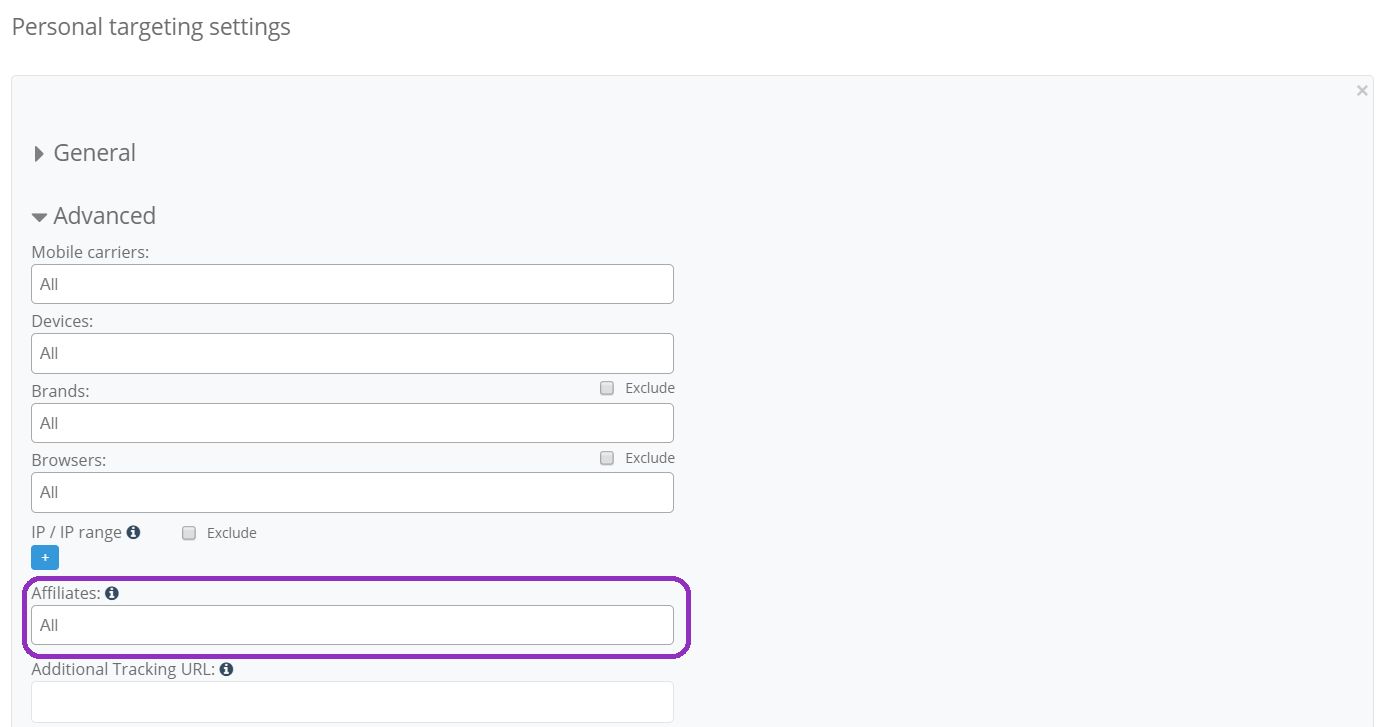 Click-level Fraud Prevention
A new study from Juniper Research forecasts that advertisers will lose $42 billion of ad spend globally in 2019 to fraudulent activities committed via online, mobile and in-app advertising. Despite the evolving preventing measures and initiatives, advertising fraud still stays a major issue and becomes more sophisticated each year. As we do our best to make affiliate marketing industry a better place for all the players, taking preventive steps towards fraud was a logical decision for us.
A new click-level fraud prevention tool made with Digital Element's IP intelligence* helps our users to reduce fraudulent traffic by filtering VPN, non-earmarked traffic from proxies, bot traffic etc. The system detects fraudulent traffic in real-time, block it and doesn't allow it to reach the destination website. It goes without saying that these measures increase CR of your ad campaigns, and the advertisers get higher quality traffic to their offers.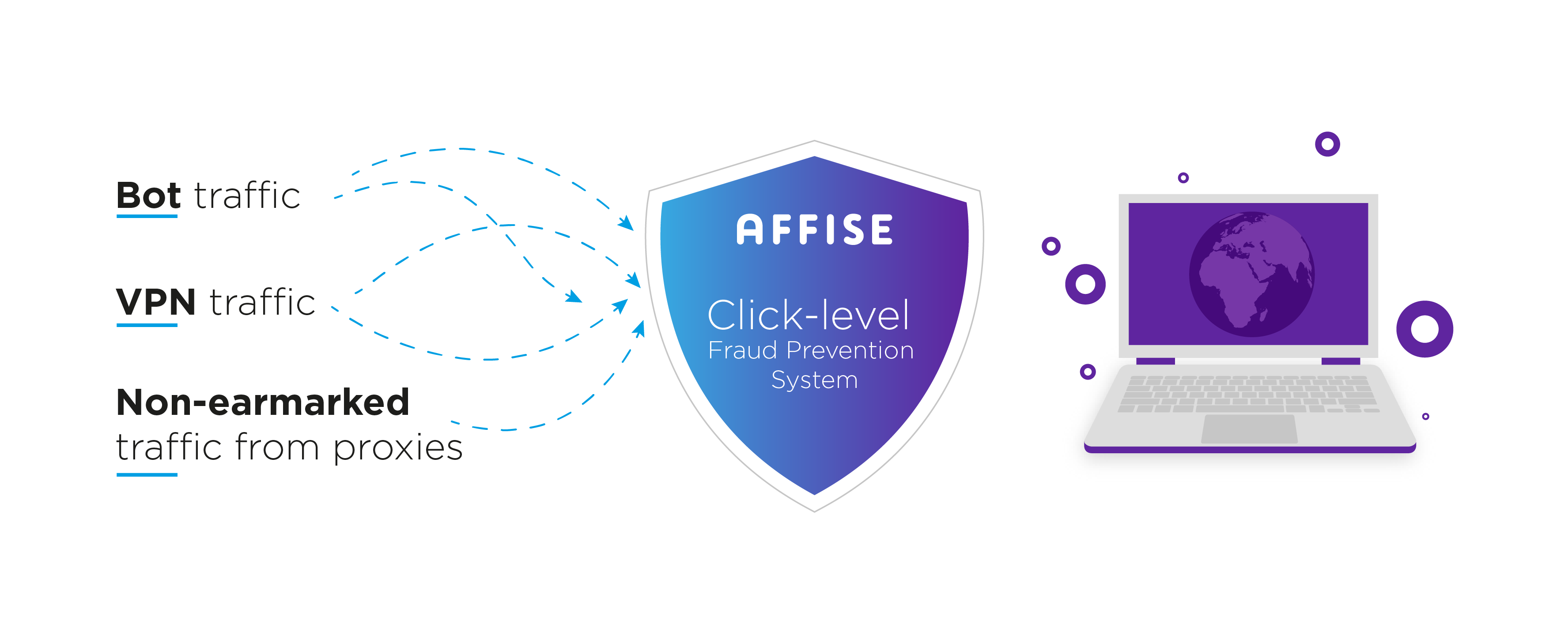 How Click-Level Fraud Protection Works at Affise
Why Digital Element?
Digital Element is the best IP geolocation data provider trusted by Adobe, Facebook, Pinterest, LinkedIn, Videology, MediaMath, BBC, Discovery Networks, Hubspot among the others. By utilising their granular IP intelligence we are able to offer the best possible solution to our clients, increasing both their performance and reach.
* Digital Element's NetAcuity® IP Intelligence and geolocation technologies provide information about online users including location, connection type, and proxy data to name a few. All of this information is collected solely from a user's IP address, providing strong authentication of user identity without violating user privacy. This accurate and reliable information about online users is helping to break down the anonymity barriers of the Internet and is proving to be an integral and necessary part of any online security or fraud prevention strategy.
The Era of Smarter Targeting is Here!
Now with all the new targeting capabilities you can create more flexible rules and monetize all the traffic that you receive from your affiliates to increase your ROI even more.
If you require any further information on new targeting capabilities at Affise – feel free to contact support@affise.com or ask your account manager.