There are plenty of factors that influence the growth and set successful ad networks apart from the others. Profitable offers, competitive payouts, and dedicated affiliate managers to support your publishers are not yet all. The success of ad networks greatly depends on accompanying technologies. Nowadays, affiliate networks can benefit from plenty of innovations that turn their work into a more productive journey. Affiliate tech solutions can speed up the development process, secure all relevant transactions, accelerate the growth, analyze all strengths and weaknesses, and consequently improve the performance.
As a technology provider for affiliate business, Affise prepared a selection of the most crucial functions that affiliate markets need to increase the performance of their programs.
1. Work on a decent description for each offer
Imagine that you need to get out of a desert island without a map and compass. Well, your affiliates feel pretty much the same when you leave them without a proper description of each offer. They need to know all offers' details, such as allowed traffic type, actions that lead to conversion, and all the restrictions from an advertiser. When having this information at their disposal, your affiliates will show much better and more satisfactory results.
2. Set the category for each offer
Allocating offers by categories is also a great way to ease the work of your affiliates. Thanks to that, your affiliates can quickly sort offers by categories and ad formats and choose ones they would like to promote. You can categorize offers by their types or verticals, for example, health, gambling, adult, retail, finance, mobile apps, and so on.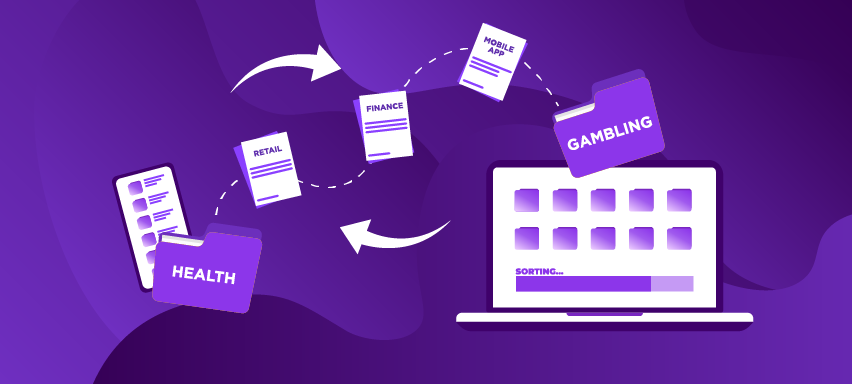 3. Great interface – comfort for your affiliates
Nothing irritates affiliate marketers more than a poor-quality user interface of affiliate software: the suspensions while searching an offer or even the entire absence of this possibility, lengthy reports upload time, frequent page reloadings – all these "perks" make your affiliate just go insane. So make sure that you provide a user-friendly interface that your partners will understand and use effortlessly. High-quality, customizable software is a guarantee of higher performance, as you can configure any system element to match your organization's existing processes. Everything will turn into an easy process: searching and adding offers, report generation, and more.
4. Provide detailed and easy-to-understand statistics
Statistics is king in affiliate marketing. The more data affiliate marketers have, the more they know about their campaign performance. And consequently have better chances to adjust campaign settings that would improve the final conversion rate. So provide your affiliates with the most uptime and accurate statistics, comprehensive comparison reports, and their campaigns will be much more successful.
We believe that based on data visualization, statistics directly affect and boost strategic planning. For example, Affise offers real-time statistics with over 50 data slices and versatile custom dashboards to provide the final users with credible data.
5. Calculate your metrics and indicators
One of the most demanding requests of ad networks and advertisers is to be able to customize their statistics within the program. And here it is not about dashboards and reports customization, but also the initial calculations and report tables – in other words, about statistics design.
It used to be quite a challenge, as the affiliate industry is very diverse, and when it comes to commissions and payouts, each affiliate vertical has its peculiarities. Now, with a calculator, widget statistics design enables users to implement necessary metrics, apply formulas, and create new metrics and indicators. Any ad vertical can implement needed calculations, the widget is not bound only to CPM, CPС, СPA or other payment models. Affiliates can set visibility and order to arrange their data and get rid of the data they don't need.

6. Automate your KPI settings
If you are working directly with advertisers, you need to check your KPIs each time you reach specific results. It is not only time-consuming but also distracts you from the things that matter more. Automation is a real solution for that. With a customizable affiliate platform you can set custom KPIs for each offer, and their rates will automatically change for each partner as soon as they reach specific KPIs.
7. Use Smart Caps
How often do affiliates face the situation when at the end of the day, they exceed the limits? Or receive the traffic that is outside the offer timeframe of value? In all of these cases, as a result, affiliates lose traffic and money. But with Smart Caps you can make an enormous difference. The system can allocate caps based on the conversion time frame, type, value, goals, and affiliates, so that marketers will not lose traffic in case they exceed the limits. Affise clients have been increasing their revenue by up to 10-15% through smart caps management. Not bad, right?
8. Stand out from your competitors
You will never get a second chance to make a first impression, especially in the time of high competition on the market. Adding your logo will not set you apart from the others anymore. Modern affiliate platforms offer rich customization that reflects your company identity through the corporate design, logo, color scheme, icons, and any needed layout within the platform. Unique design and convenient interface are powerful tools to delight and gain loyalty from your current partners as well as conquer new ones. Make the industry remember you, and success won't keep you waiting.
9. Proper targeting for your campaigns
The performance of ad campaigns largely depends on ensuring that your ads reach the right types of audiences. And here is where targeting features plays a crucial part, as they can help improve your overall campaign performance and eliminate wasted ad spend. Look for affiliate marketing solutions that offer extended targeting options. The more targeting options are available at affiliate platforms, the more accurately you can target and reach the right types of audiences.
Affiliates may often overlook targeting parameters located in the title of each offer. Thus, make sure you set all the necessary parameters from the offer settings page. Do not be limited just by geo-targeting. Target your campaigns by device, ISP, carrier, OS or browser, language, location, including cities, and even zip codes. It will also allow publishers to find your offers for parameters they want.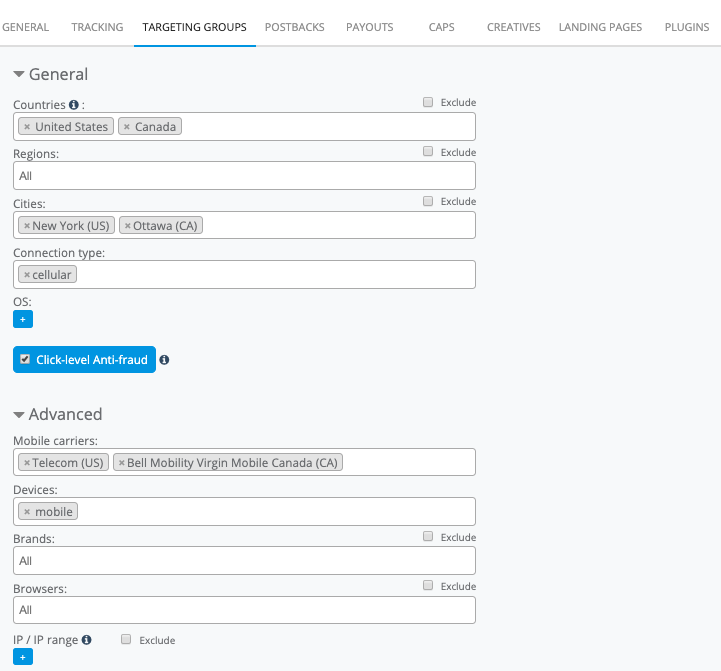 10. Allow payouts in different currencies
Put yourself in your affiliates' shoes: isn't it much more convenient to receive payouts in the currency that is valid in your country? Indeed, it is. So make sure you provide your affiliates with such an opportunity. At Affise, you can use as many currencies as you need, as well as make payouts in cryptocurrencies.
11. Automate Fraud Prevention
With digital advertising steady prosperity, unfortunately, we also observe the rapid growth of fraudulent patterns and attacks on online ad campaigns. Ad fraud is a problem both for advertisers and ad networks as it undermines the authority of traffic sources and causes financial losses. And as a fraud business is a business that is developing very fast, make sure you provide your affiliates with a robust fraud protection system.
It can be either an in-house solution at the affiliate platform, like click-level fraud prevention that reduces fraudulent traffic by filtering VPN, proxies and bots or a ready-made dedicated tool that you integrate into your platform. Or with 'Time to action' reports, which shows the relations between click and conversion time and helps to recognize and reject any conversion outside the approved СТCT.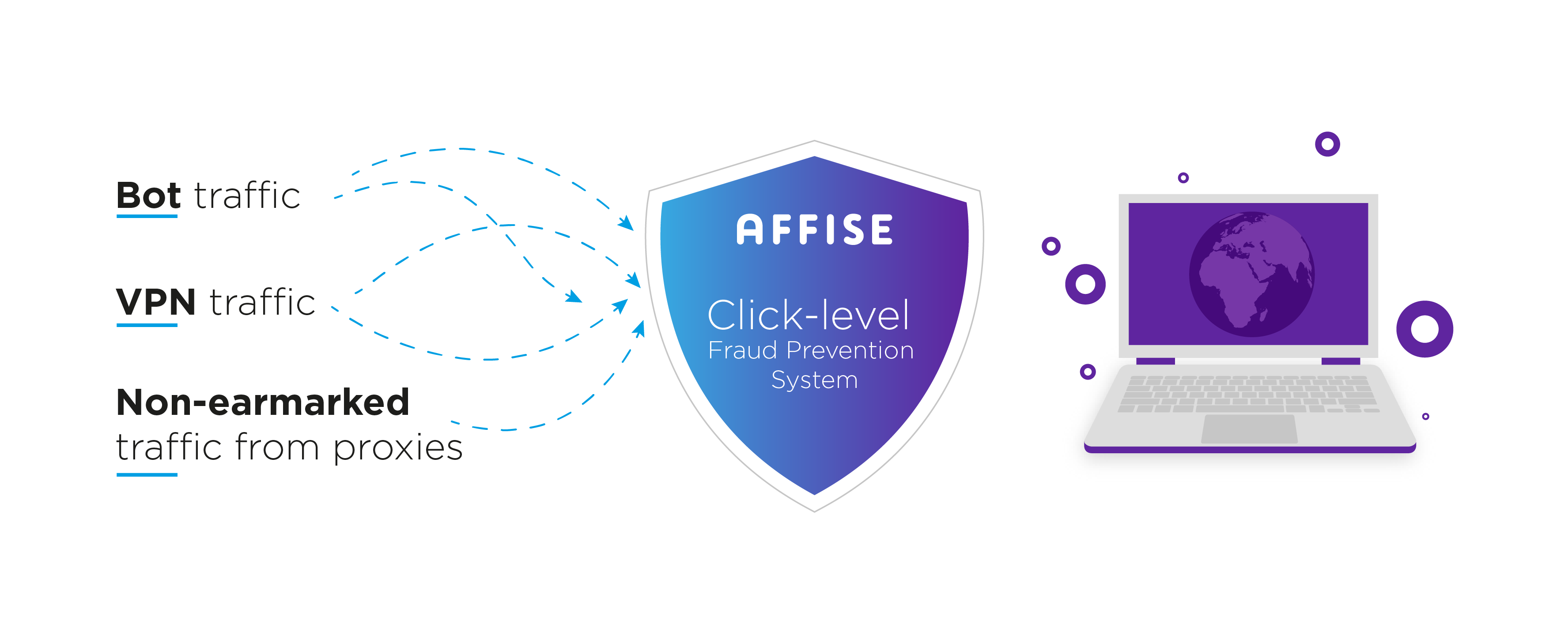 12.Achieve more with Smart Links
All ad networks are interested in maximizing their revenue, and preferably over the short term. And this is delivered by Smartlinks automation. Smartlink has been trending in affiliate marketing already for several years, and it hasn't lost its relevance. Smartlink automatically sends relevant traffic to your offers, choosing the best performing offers for a targeted audience. Just grab SmartLink, and it will do all the work for you, increasing your profit while at the same time saving your time.
13. Automated data transfer
Once an ad network starts to gain momentum, it faces the problem of a tedious data transfer process. Before, advertisers used to manage that through their in-team resources, adding each offer and configuring all the parameters manually. But when you work with hundreds of advertisers and thousands of offers, you will inevitably get overburdened with data volumes. To avoid subsequent disruptions into the working process, you need a dedicated data transfer tool.
The best on the market solution that automates the process of pulling offers is CPAPI. It grants a prompt integration with a bulk of advertisers, synchronizes sources with the recipient system, and automates the data transfer. Additionally, CPAPI has already conducted integrations with the majority of offers' sources. The process of pulling offers has never been that easy!

14. Test your offers automatically
Affiliate marketing is not a piece of cake, and it requires thoroughness and an eye to detail on different stages. And one of these things to be aware of is that not all your offers are valid. You can spend a lot of time on one single offer, and after all these efforts, it may appear either non-profitable or not valid at all. To avoid that, we recommend you think about offers' testing in advance.
Offers validation service, like Affilitest integration at Affise, can give you a holistic control over an ad network, as well as the overview of the working and broken offers for every advertiser. If a link is not valid or not profitable based on KPI requirements, the system will pause it. And in the end, it is a win-win situation for everyone.
15. Analyze your data with BI tools
Recently we observe more and more cases of BI usage in different spheres. Affiliate marketing is not an exception. As you deal with high volumes of data that can also be stored at various platforms, it may be complicated to unify all your data to get the full picture. But it is possible with the right tool! Like DataFusion, for example. Data Fusion is a real-time delivery service, which collects all the data from Affise affiliate platform and transfers it to users AWS and Google accounts, integrating data across multiple sources into a single view. For marketers, who build an online advertising strategy on data, Data Fusion will make a significant difference.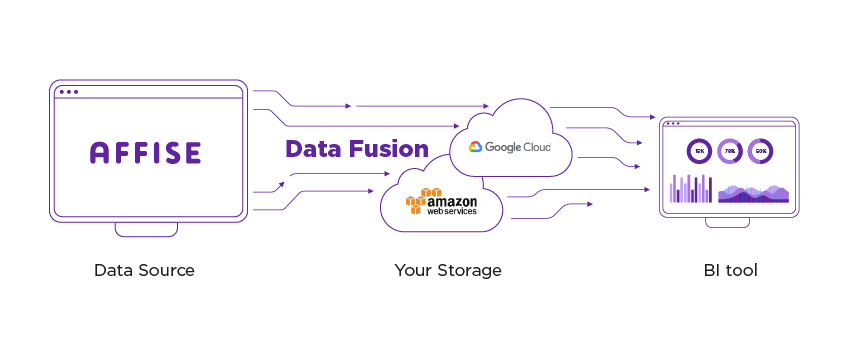 Ensure you are setting up your ad network to be successful from the very beginning!
Thanks to a tremendous experience in affiliate marketing, we developed the affiliate platform that addresses everything mentioned above and even more — all this to provide the best-in-class technology and customer service.
And we even offer a free 30-day trial so that you can experience the Affise affiliate platform on your own.
If you are looking for specific details of ad network management, you can check more features or ask our managers.