Not always advertisers want their campaigns to be running 24/7 – some need them at a specific time; especially when it comes to special offers or campaigns targeting a particular audience. Because when adapted for preferable time, advertising campaigns are more likely to end in conversions.
Due to the nature of offers or audience, advertisers may expect the highest number of final goals to be reached at a particular time interval. For this reason, they are willing to pay only for the conversions made during this period. And while advertisers want to be able to run campaigns in the most profitable time, they don't want to spend hours on manual campaigns activation and termination.
But with the automation stepping in, marketers can have campaigns scheduled to the preferred hours through an Offers schedule tool. Offers schedule tool is designed to enable advertisers to start and pause advertising campaigns via a special calendar at the needed time. Users set rules for their offers to be activated and paused at a specific time – once it is done, their campaigns automatically run accordingly.
E.g. User needs to set a rule for an offer to be active from 9 am till 10 pm within working days and from 12 am till 12 pm within weekends. That's how it looks like: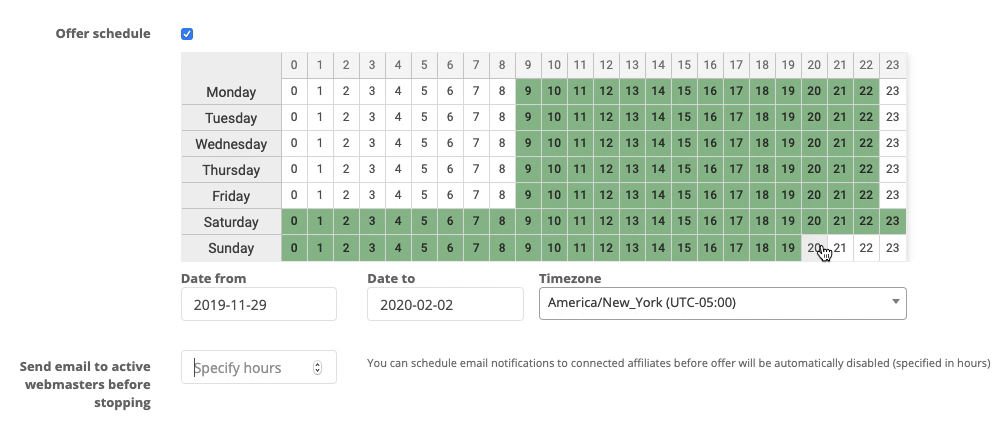 You set Offer Schedule in the General Tab section of a New Offer Setup, it constitutes a calendar with weekdays and hours. Each day has its line of hours, which allows setting different ranges of active hours for every single day of a week.
You choose "Date from" and "Date to" – to mark a launch and completion date; and "Timezone" to activate and stop your offers following the given timezone. Hours during which an offer is active are marked in green, when disabled – in white.
Don't hold your offers back – automate time regulations for your campaigns!
Should you have any additional questions on how to enable this feature for your campaigns – feel free to contact support@affise.com or ask your Customer Success manager.