What a year, right?
For Affise this year was marked by a significant mission to solve critical problems of the performance marketing industry that fall under the three pillars: in-depth and predictive analytics, the speed of decision-making and automation of all operational aspects.
Following this mission, we released 47 features that help our clients handle and analyse big data, visualize their performance and automate manual and routine tasks. And for this article we picked the top ten most significant and crucial features we implemented in 2019. Let's go over them!
Click and CR Automation
With the goal to automate as many processes in performance marketing as possible, we've introduced a new CR and sub-accounts optimization tool that filters traffic according to the performance of affiliates and traffic sources. The released CR optimization tool has become the initial step towards prompt data analysis, which helps to automatically block affiliates or traffic sources which fall short of the target rate.
Custom Dashboards
This year we have committed ourselves to completely change the approach to the data visualization with regard to all tabs and platform sections, making it simple and unique for each user. One of the main breakthroughs we've achieved in this direction, has come with state-of-the-art Custom Dashboards.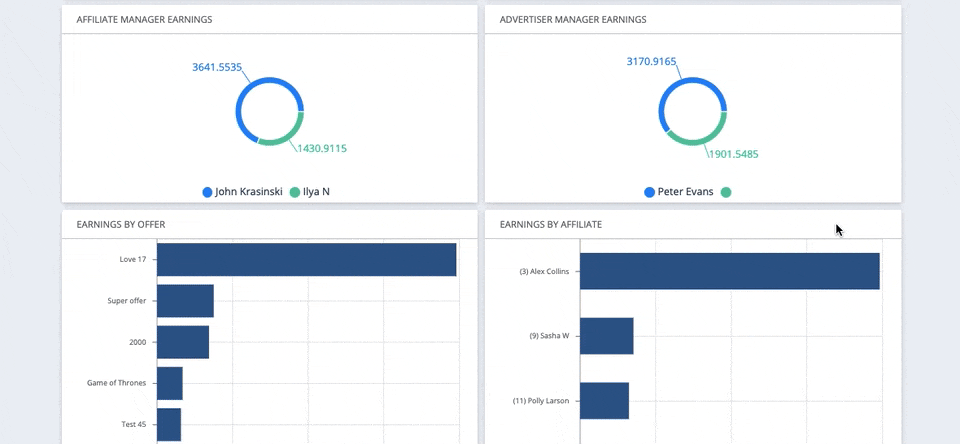 User management
Monitoring and evaluating results of advertising campaigns is crucial for each players of performance marketing: affiliate managers monitor activities and results of their affiliates, account managers gather statistics for advertisers and a head of affiliate department takes control over the overall performance of each affiliate program. Considering the importance of differentiating user roles within a platform and the sensitivity of data, Affise has released extended User Management functionality, which allows to give different access levels and permissions for different team members.
New Targeting Capabilities
As the ability to connect marketers with specific types of audience is one of the key differentiating factors of publishers and affiliate networks, at Affise we are constantly looking for ways to improve our users' targeting capabilities. So, once we realised that our former targeting system no longer allowed our users to benefit from it, we've decided to make it more convenient and efficient for our users, having introduced Advanced Targeting Capabilities at Affise!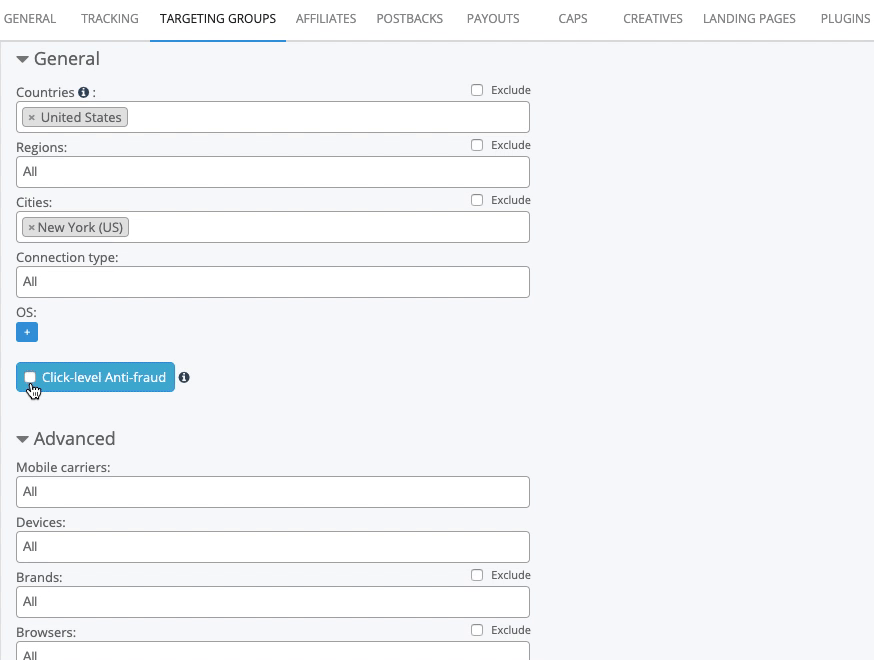 Click-level Fraud Prevention Tool
As at Affise we aim at creating a stronger and better affiliate ecosystem, eliminating fraud has become a challenge we had to address. First, we integrated with the best fraud prevention tools in the industry, so that our user can choose the technology they prefer to work with. But this year we've gone even further and released our own preventive weapon – Click-Level Fraud Prevention Tool, which helps Affise's users to reduce fraudulent traffic by filtering VPN, non-earmarked traffic from proxies, bot traffic etc.
DataFusion
For marketers, who build an advertising strategy on data, making more data-driven decisions, collecting and analyzing data from multiple sources are the most significant challenges. Affise is rising to the challenge by turning Big Data into an easy-to-use instrument with the help of our brand-new BI integration service Data Fusion. Data Fusion is a real-time delivery service, which transfers all the data from Affise to your AWS and Google accounts, integrating data across multiple sources into a single view. Data management has never been easier!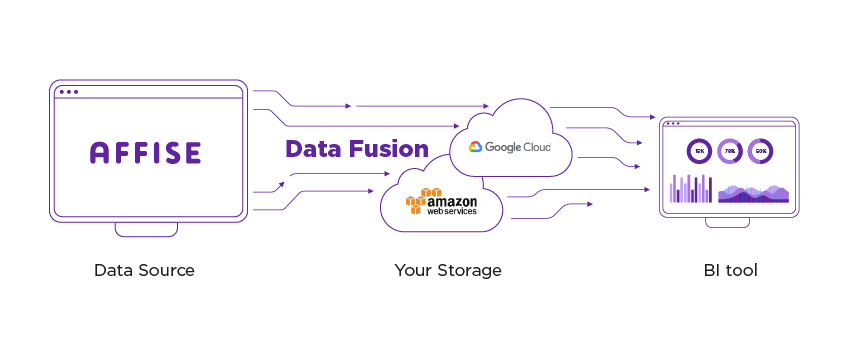 Offers schedule
Due to the nature of offers or audience, advertisers may expect the highest number of final goals to be reached at a particular time interval. While advertisers want to be able to run campaigns in the most profitable time, they don't want to spend hours on manual campaigns activation and termination. With newly released Offers schedule tool, Affise's users can set rules for their offers to be activated and paused at a specific time – once it is done, their campaigns automatically run accordingly.
Commission Tiers
We can observe that big brands and agencies from different industries want to award their affiliates with various bonuses for achieving specific performance goals. These special offers from advertisers and networks aim to increase affiliates' loyalty and encourage their progress.
Affise understands the importance of such an approach and comes up with a solution that enables the smooth running of promotional offers and calculation of bonuses – Commission Tiers.
Time to Action Report
In addition to the existing fraud prevention tools, we extended statistics capabilities by introducing a 'Time to action' report, which shows the relations between click and conversion time. For every conversion type there is a specified timespan during which a majority of clicks and installs occur. High volumes of traffic beyond this time frame usually account to fraud. Time to action report helps to recognize and reject any conversion outside the approved СТCT.
Comparison Report
The promotion of products is becoming more about big-data analysis. It is no longer enough to track impressions, clicks, conversions and keep an eye on CR in case you want to anticipate the behavior of prospective customers and go beyond their expectations. To keep up with the time and industry requirements you need more efficient tools to incorporate into your working processes. That is why, here comes Comparison Report, that turns into an indispensable instrument while building your advertising strategy.

What to expect in 2020?
2019 was huge. But 2020 is expected to be even more productive! We'll keep improving our platform and saturating it with even greater features and tools to provide you with the best product in the industry and competitive edge. Stay Affised not to miss newest updates and releases!