Here in Affise, we do believe that people perform better if they are properly rewarded.
We observe big brands and agencies from different industries sharing this idea by awarding their affiliates with various bonuses for achieving specific performance goals. These special offers from advertisers and networks aim to increase affiliates' loyalty and encourage their progress.
Affise understands the importance of such an approach and comes up with a solution that enables the smooth running of promotional offers and calculation of bonuses – Commission Tiers.
No more time spent on a manual calculation of income and relevant bonuses per affiliates, with the newly implemented feature, you have a tool that automatically calculates those rewards. Once affiliates reach a particular number of conversions or a certain amount of revenue – their bonuses are automatically added.
Benefits You'll Get with Our Commission Tiers
Utmost flexibility. From now on, you can calculate bonuses per each affiliate or individually according to affiliates' payouts, the number of conversions and conversion goal for various timeframes. No need to do it manually – you only add the reward itself to the default payout as fix amount or per cent.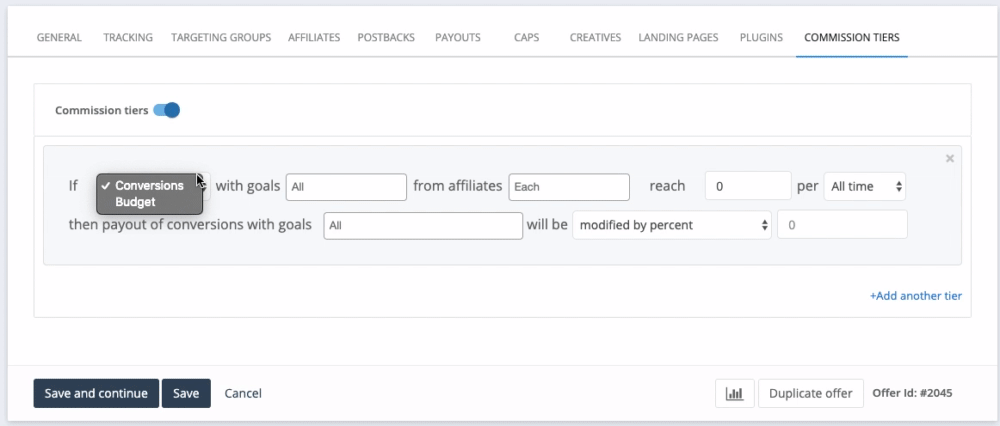 Fully automatic process of calculating bonuses. It releases your personnel from spending extra time on manual bonuses calculation for each affiliate. Also, with the fully automated process, you have it all in one place – all final payouts are calculated at Affise. No need to switch among several tools.
The new way of attracting affiliates. Feel free to run any contest and present special offers to attract more affiliates into your program. You can boost your brand awareness to a whole new level with a variety of ways to find new affiliates.
How it works?
Let's take an example. An advertiser runs a contest and announces a special offer: after reaching 20 website registrations, the payout for the affiliate will be automatically changed from default $1 to $1,5. Next, it can continue like that: after 50 registrations – the payout will become $3, and after 100 registrations – $4. It all easily sets up in Commission Tiers: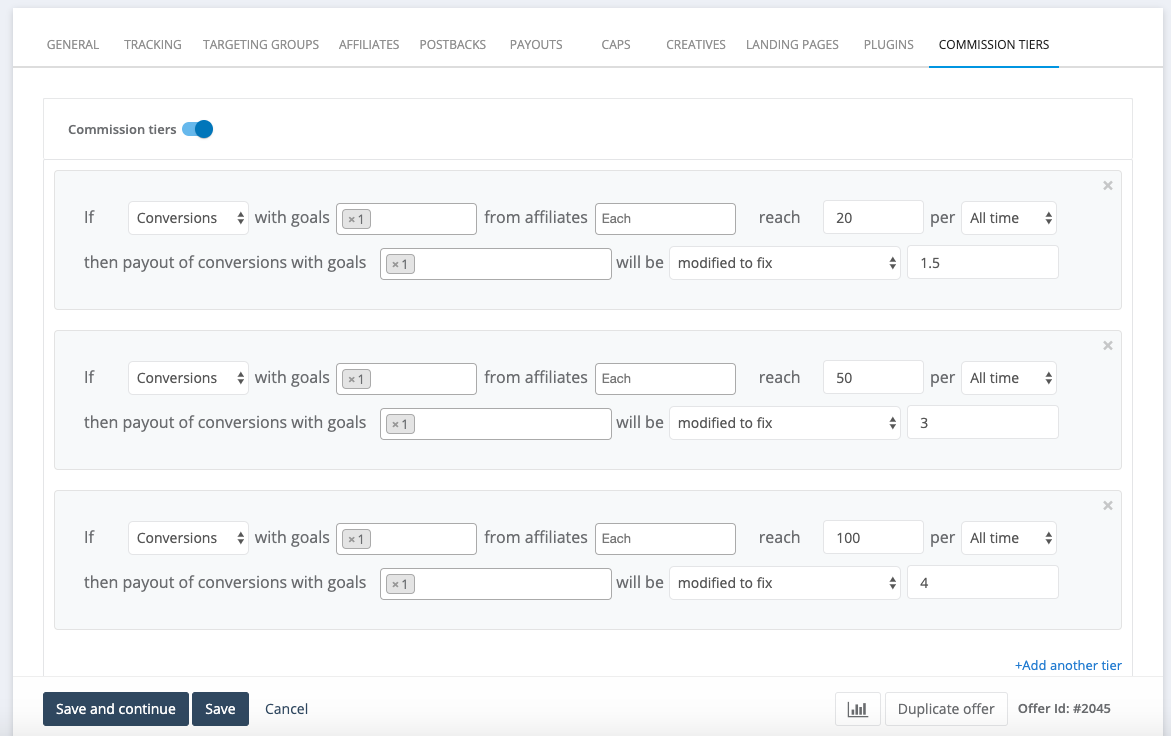 Here you go: now you can enjoy your smooth running of automatically calculated performance bonuses! Don't hesitate, start to attract new affiliates and grow your business even further!
Contact your Customer Success manager to know more details about how to set up new Commission Tiers!
Stay Affised not to miss our newest feature releases!