Affiliate networks should focus on performance rather than paperwork, right? However there are so many processes that affiliate managers have to monitor on a day-to-day basis: documents, agreements, billing terms and so much more. And it's so easy to miss something important in this turnover, let alone the fact that it's very time-consuming.
Luckily, when there is a problem, there is a solution. item8, Business Operating System for affiliate networks, has become the real way-out in this case. It's tailored to enhance customer relationship management capabilities, billing processes and financial analytics to deliver even more value to Affise customers.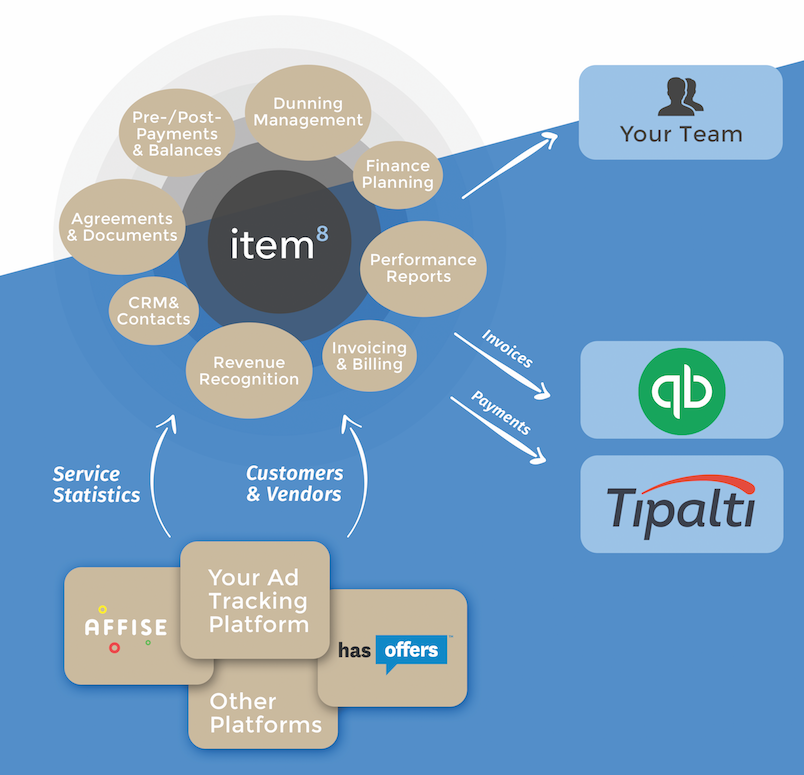 item8 drives efficiency to the working process of affiliate networks. Let's see how you can leverage this technology and take control over your everyday tasks.
Orchestrate with Different Payment Methods in One System
Affiliate networks often have more than one payment account: Bank, PayPal and others. You must always control that you have enough money on each of them to pay to your affiliates.
The Bills Summary report in item8 helps you plan your payables beforehand and omit cash gaps. It shows the number of bills that you have for each of your payment methods and the sums in different currencies to be paid.
Besides, if your affiliates have several accounts to receive money, they could ask you to change the preferable payment method from time to time. item8 stores the information about all the payment options of your affiliates and lets you easily change the payment information in their bills.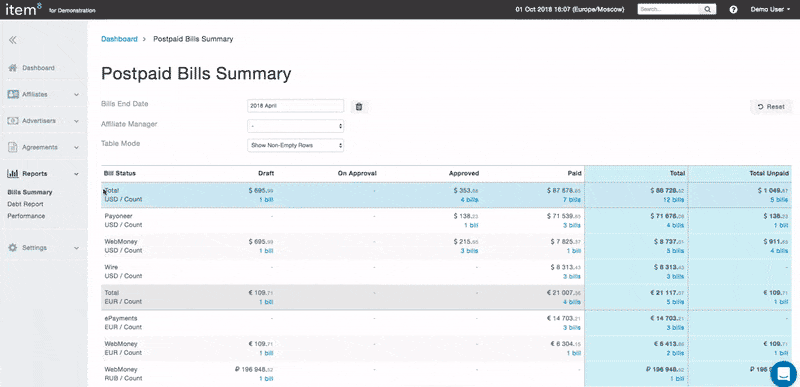 Store All Your Partners' Agreements and Terms
If you have dozens of advertisers and hundreds of affiliates you can find it difficult to store all their documents: Certificates of Incorporation, Credit Applications, Agreements, IOs and other important files. Keeping them on cloud folders or your employees' notebooks can take hours for your team to find the exact document.
item8 lets Networks automatically generate and store all Agreements, IOs, Bills, Invoices or any related files in an Advertiser/Affiliate profile. Download them at any time. Feel safe that none of them gets lost.
Manage Invoices and Payments
How do you ensure that 100% of your Invoices are paid in time? Do you use Excel Sheets for this? If you have lots of advertisers and they pay to you on different terms (e.g. net15, net30, etc.), your team can spend hours on payment reminders and dunning management.
item8 saves time for your account managers by generating and emailing Invoices automatically to your Advertisers. And if they don't pay in time, item8 will be that guy who reminds them of their debts.
Track Conversions Get Billed, Invoiced and Paid
It goes without saying, that your affiliates would drive you more traffic if you could pay them twice a month or even more often. At the same time your advertisers often try to postpone their payments to you.
item8 has transparent Billing procedures that track each exact conversion if it's been paid by advertiser and paid to affiliate. The Payment Coverage features let you see which percentage of conversions in the bills was already approved or paid by advertisers. This lets you easier evaluate the risks of paying your affiliates earlier than you collected the revenues for these conversions.
As you can see, managing your bills and documents is not always that difficult. Gear up your affiliate network with the solutions that suit you well, and you'll forget about time and labor-consuming routine. Keep calm and focus on your Performance.
Originally published October 4, 2018 13:38 PM