Each day new players are starting to conquer affiliate marketing industry. They all aspire to achieve great success and hope that someday their names will appear along with the affiliate marketing leaders'. Now we could hardly imagine that days and years ago all these giants were newcomers as well. What were they dreaming of? Which problems did they have? What were the key factors of their success? How did they become globally known? What was the affiliate marketing industry like back then?
We continue sharing the answers to these and many more questions in our series of articles, Affiliate Network Insider*, that touches upon the working life of the prominent affiliate networks in the industry. Stay Affised not to miss newest pieces at our blog, and, please, welcome our new guests, founders of Germany-based ad network elementr.
| | | |
| --- | --- | --- |
| Chiara Garelli | Clément Névoret | Stephan Grossmann |
– elementr is a relatively new name in the affiliate industry. Nevertheless, in just few months you achieved impressive results with just three people on board. What is the story behind this, and how did you, guys, meet?
Clement: For me, the story started in 2012. I lived in France after graduating from a business school, and came across a young startup, called AppLift. It seemed to me like a promising company with the strong ambition to become a leader in the industry. The mobile app user acquisition market just started growing: it was the time when the first Candy Crush Saga game was released. Thus, I decided to make the move from France to Berlin and join their team. Chiara and Stephan joined around a year later. So, that is how the three of us met, and after 5 years working shoulder to shoulder we got quite close.
– So you started when the first Candy Crush Saga was released. Was a pretty hot time for the mobile app market, wasn't it?
Chiara: It really was. I can tell you even more. Once, I met a media buyer we were working with at AppLift. During a casual conversation he was showing me the two-story house he had just bought. He bought it entirely with the income he made from promoting Candy Crush Saga back in 2013.
– When did you realise that you were ready to launch your own network?
Clement: In October 2017, I was the first one to leave AppLift and decided to launch the network in March 2018. I knew the experience gathered at AppLift was a strong edge in an industry where turnover is high and networks struggle retaining their employees. I started on my own. A few months later Stephan and Chiara decided to leave AppLift. They were among the strongest profiles at AppLift, so I offered them to join me. Timing was perfect to start a network with a small team of seasoned professionals. We started operationally, the three of us together, in July 2018 and we're still the three of us to this day.
– What challenges did you face at the very beginning?
Stephan: At the very beginning, there were two main challenges: operational and financial. Operationally, it was complex to align demand and supply together at the same time, starting from nothing. Either we had some campaigns and we would not be able to deliver traffic for them, or we had some traffic sources but we did not have the right campaigns for them.
For the financial one, it was a nightmare to manage cash-flow properly in the first two months. Even though you generate the first revenues, you still need to wait for 1,5-2 months till you get paid. On the other hand, there are still some invoices that you have to pay before that. As we started with limited capital, we were pretty stretched. I am not talking about huge debts, but just the feeling of being unable to pay the invoices is not nice. Once, we even had to negotiate with our landlord to pay the office rent 15 days later than due date.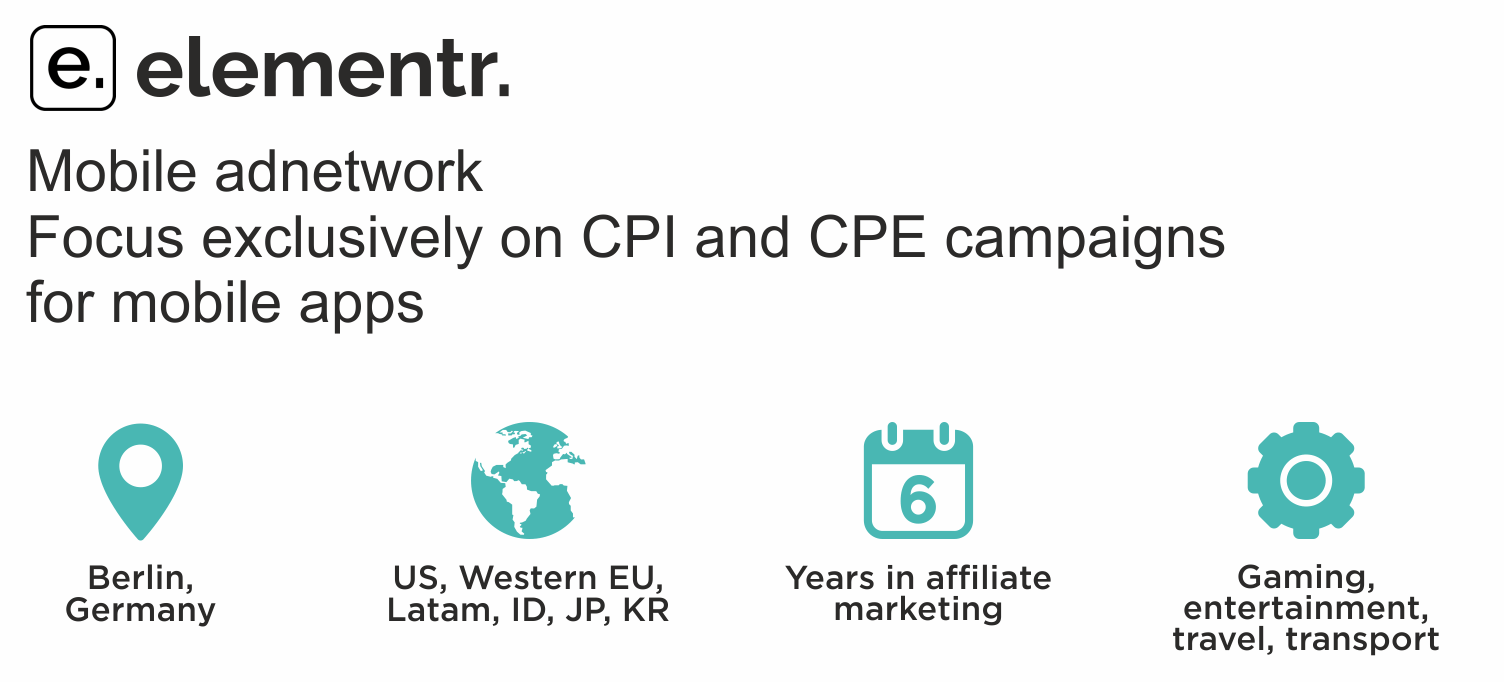 elementr is striving to bring trust back to the mobile marketing ecosystem, through strong expertise, good communication and alignment of expectations
– What do you think set you apart from other affiliate networks?
Chiara: I think, one of the key elements is our experience. And it helps in every aspect of our work. For example, other networks might have more skilled sales people than we are. But while they might be better at building relationships, we usually have stronger operational and campaign management knowledge. That's where we make a difference. The market is in a stage where expertise matters at least as much as relationships. And that's the way we close deals and build trust with potential partners.
What's more, with our background we know how to execute campaigns, what to expect from our publishers and where the pitfalls can occur. Our experience helps us have more things under control. It does not mean that we do not have any issues. Of course, we do. But we believe that we have less than others on average.
– Speaking about experience, each of you has been in affiliate marketing for already six years. How has the industry changed since then?
Clement: It's hard to summarize shortly since there were lots of changes and they happened really fast. It evolved from basically a "wild wild west" to a much more professional ecosystem. Back then, there were no clear limits on the types of inventory used, no idea about fraud, very few products and technologies. Just budgets to spend, and they had to be spent as fast as possible. The market growth and amounts of money transiting through this ecosystem attracted lots of players while at the same time remained very disorganized.
Very soon advertisers started implementing rules to guide how budgets had to be spent, while in parallel some players saw policing and regulating as an opportunity to grow. That was the very time when MMPs and fraud detection companies started growing their importance. They added some sophistication and technology to the industry, as well as brought additional clarity to advertisers by precisely defining the rules on what is an install and what is not; what is fraud, what is not. On the affiliate side, the players had to adapt quickly to the changing conditions, putting some order in their traffic, developing tools to optimize faster and more efficiently and provide additional transparency.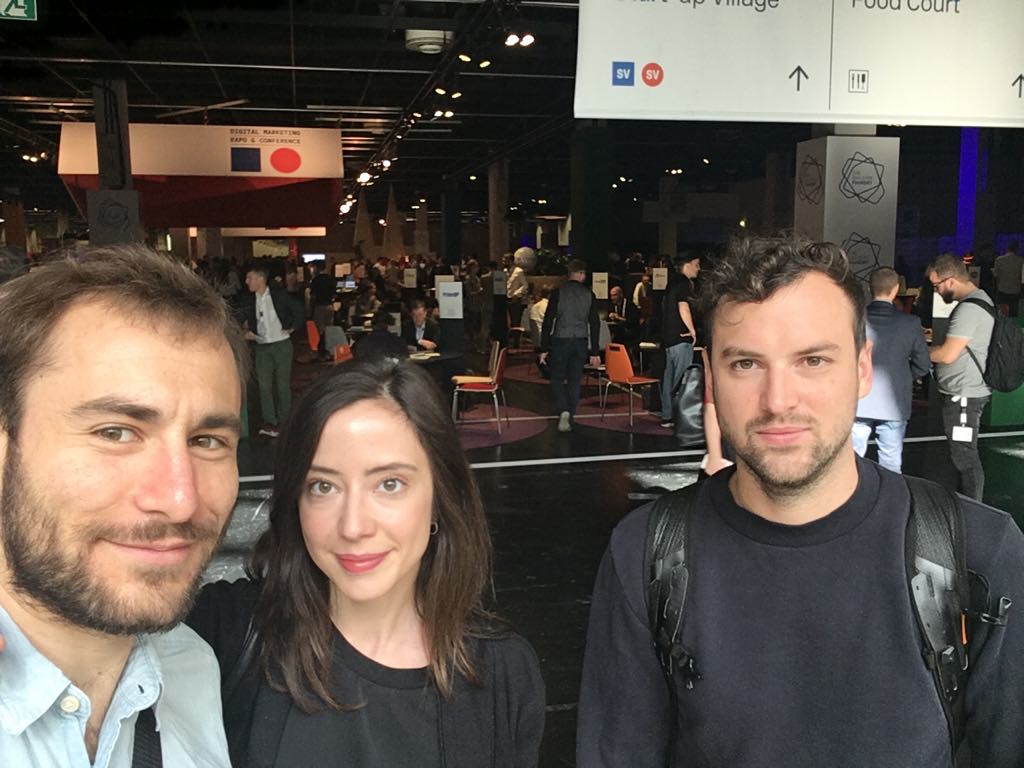 – How do you attract affiliates to your network?
Stephan: We are not specifically looking to attract new affiliates to our network at the moment. We work with sources we know and trust, and if we consider adding new ones, they usually come through recommendations from people we know.
– "TOP Affiliate" – what does it mean to you?
Clement: Ideally, high volumes, high quality, low fraud rates: the needle in the haystack. Practically, partners who have things under control, who can be transparent, sharing app name and device ID dynamically, who deliver consistent volumes and decent quality and who do not scale out of the blue in a matter of 10 minutes.
– How do you manage relationships with the affiliates?
Stephan: We try to have a communication that is as transparent and direct as possible with all our partners, both in the day-to-day over Skype or calls, and occasionally in person when we can. For us, things need to be efficient and move fast because we have limited time given our size.
Businesswise, we make our best efforts to make sure we maximize eCPCs/eCPMs for our publishers, by providing them with good offers: few redirects, links that go through etc.
– And what about advertisers? How do you work with them?
Stephan: We focus on campaigns that are direct from agencies, to maximize the attractivity for our media sources. We usually try to have API integrations to facilitate and accelerate the setup process – which is one of the reasons we like Affise and its CPAPI product – but we also work manually for agencies that have only few titles. Once the campaigns are live, operationally, it depends on the advertiser. We try to always have the same approach with transparent communication, alignment of expectations. And then we put efforts in understanding how each agency works to adapt our delivery to the requirements in terms of transparency, volumes, types of sources and etc. We usually try to pass device ID and app name as often as we can even when not required.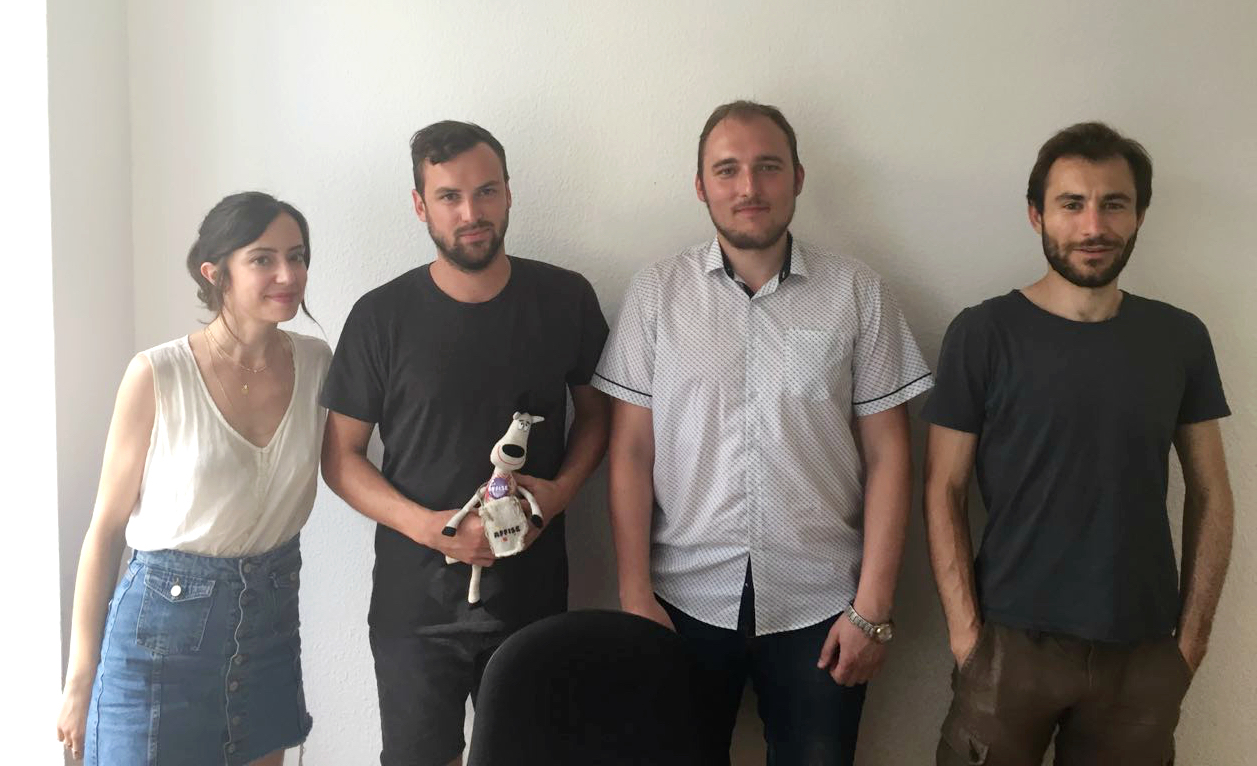 "Affise has proven to be a great tool to meet our objectives," – Founders of elementr & Maksim Krupitsa, Affise Customer Success Manager
– Your forecast for the next year: how the industry will change?
Clement: The next year will be tough. We believe it will be a year of "make it or break it" for many, especially bigger players. As the market continues its way towards more policy and regulation, the pressure on quality and transparency will continue to grow. Under this pressure, some big networks might suffer from being unable to fully comply with those new rules, leading them to cut part of their inventory and revenues. This could have a snowball effect on their cash-flow, their capability to hit profitability, to pay their publishers and employees. So we expect ultimately pretty heavy restructurings to happen in 2019, and we anticipate the mobile ad network landscape to look very different from the current one.
Positive aspect of this evolution, we believe networks with more agile structures and the most experienced professionals will have additional opportunities in this context and will be able to takeover market share from bigger players.
– What are your tips for affiliate networks to increase their ROI?
Chiara: For us, one of the key point so far was not to hire anyone and have as much of a lean cost structure as possible. We try and leverage tools for automation rather than hiring people. Affise has proven to be a great tool for us to meet that objective: one example is the CPAPI product which helps us automate most of the campaign setups.
– What do you think is the main secret of your success?
Stephan: In just 4 months since we started, we grew from 0 to 10,000 conversions per day with just three people. We're likely one of the fastest growing networks out there, and for sure this massive growth is related to our knowledge of the industry.
From the start we selected the best media sources to work with in order to provide the best service to our partners and ensure the best quality. This helped us progressively access good campaigns and attract more traffic.
Besides, we've been working quite long hours, not only at the office but also in the evenings and on weekends to make sure our campaigns run smoothly and reliably. We do everything ourselves: business development, account management, campaign management, accounting. The project requires strong personal commitment.
* AFFILIATE NETWORK INSIDER is a project, covering success stories and inside life of the biggest and most prominent affiliate networks in the industry. Make YOUR story heard by emailing to az@affise.com.