Affiliate marketing is a huge industry. Companies worldwide sink millions of dollars each year into affiliate programs. The estimated value of affiliate marketing was $12 billion at the end of 2017. If the expected growth rate matched predictions, we can safely assume affiliate marketing is now worth over $13 billion.
These are not just random companies investing money and trying to make it big. On the contrary, highly successful companies are more likely to run an affiliate program. 80% of US advertisers with annual revenue over $200 million run an affiliate program.
That's impressive!
Why is affiliate marketing so popular?
This is what we're here to explain. Here are our top reasons why affiliate marketing is a good way to promote your product.
The first advantage of affiliate marketing is that it's performance-based. Affiliates only earn their commission if the users they direct to you convert. This provides motivation to them and safety to you. As they only earn money if they make sales, affiliates are more eager to do their part of the job as well as possible. Meanwhile, as you only pay out commission after someone converts, so you don't risk losing money on an unsuccessful marketing endeavor. Additionally, users don't like direct ads that much as they can be obtrusive.
This makes affiliate marketing the most cost-effective marketing model by far. You easily get your products out to people without having to waste money on various testing like with targeted ads.
Another benefit of affiliate marketing is that you can quickly break into your product category even without previous online presence. This is possible because there are established affiliates for almost every type of product.
Most already have an online presence. By recruiting these affiliates you're hiring sales representatives who already have a client base. This gets your product out to potential customers incredibly quickly and, again, you only spend money if you earn money so there's no risk.
The third benefit of running an affiliate program is that you build trust. Namely, internet users would rather take someone else's word about your product over your own. Having established affiliates promote your product gives you much more credibility with potential customers. Anyone can praise their own product, but if another person puts their reputation on the line, the product must be worth something.
Another thing that's worth mentioning is the traffic boost. It's not only the affiliate links that get traffic to your website. With affiliate marketing, your website gets a lot of backlinks. This reflects positively on its SEO. You can, therefore, expect a small organic traffic boost if you find affiliates to market your product.
All in all, affiliate marketing is a very effective marketing model used to drive vast amounts of traffic to any business. It's great both for growing and established businesses.
If you're looking for a low-risk, effective way to market your product to a wide audience, affiliate marketing is for you. With a little help from various affiliates, your business will grow to impressive heights in no time.
If this interests you and you'd like to familiarize yourself with how affiliate marketing works, the infographic below is a good place to start.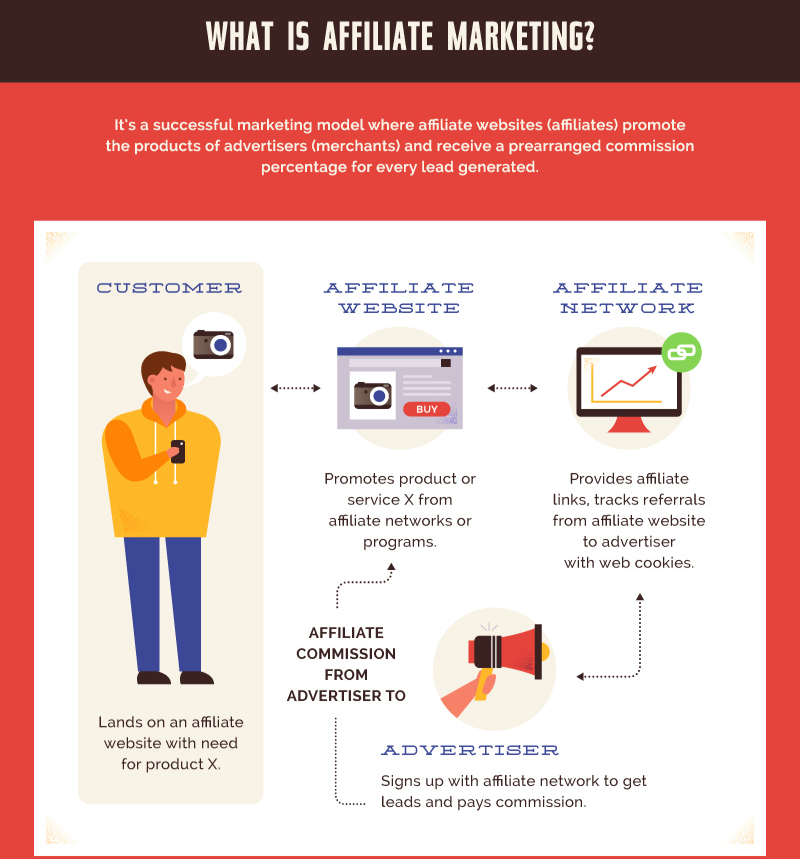 Source: hostingtribunal.com