As we are trying to make the life of performance marketers easier, we feel it as our commitment to provide all our customers with the ability to pick the technology stack that works best for them. In this respect, we would like to announce Affise Marketplace, a new section available in the admin panel.
What's in the box?
Affise Marketplace allows you to work with best-in-class technologies to optimize your day-to-day routines and workflow across a range of capabilities: billing, fraud detection, BI event streaming, CR optimization, lead generation and more.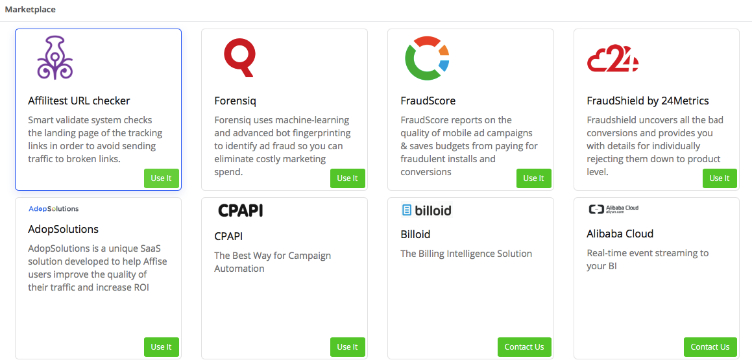 The Marketplace is where Affise customers can find the best plugin to meet their business needs:
Detect Fraud Activities
FraudScore, FraudShield by 24metrics and Forensiq are the leading ad fraud detection and prevention services that enables you to score fraud activity in real time and protect your campaigns from fraudulent traffic. One more fraud prevention service, Fraudfence is coming soon.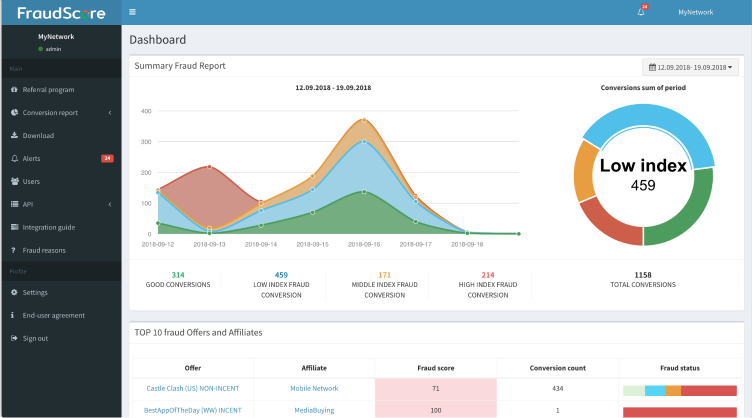 Pull Thousands of Offers in Few Clicks
Affise service, CPAPI helps our users to integrate with more than 50 biggest advertisers within a few seconds. Not only does it cut down time and costs for integration, but also allows to create your affiliate program with thousands of offers in just a few hours, instead of weeks.
Stop Losing Money on Dead Offers
With AffiliTest integration, the Affise users get a holistic control over the network, as well as the overview of the working and broken offers for each advertiser. Through an intuitive dashboard, the user can understand which advertiser has live and well-performing offers, and which offers are dead.

Transfer your Data to BI tools
With the event delivery service Affise allows networks to stream live data of impressions, clicks, conversions to your Amazon AWS, Google or AlibabaCloud accounts and get real-time access to analysing it in your BI tools. Request more information by contacting your personal Customer Success Manager.
Improve the Quality of Traffic and Increase ROI
Exclusive integration with AdopSolutions will help you automate your CR and Fraud optimization at Affise. Using AdopSolutions you don't need to deal with the time consuming task of running reports, exporting, sorting, sending emails to publishers and then blocking them in the system. All you need to do is decide what CR you want and AdopSolutions will do all the work for you.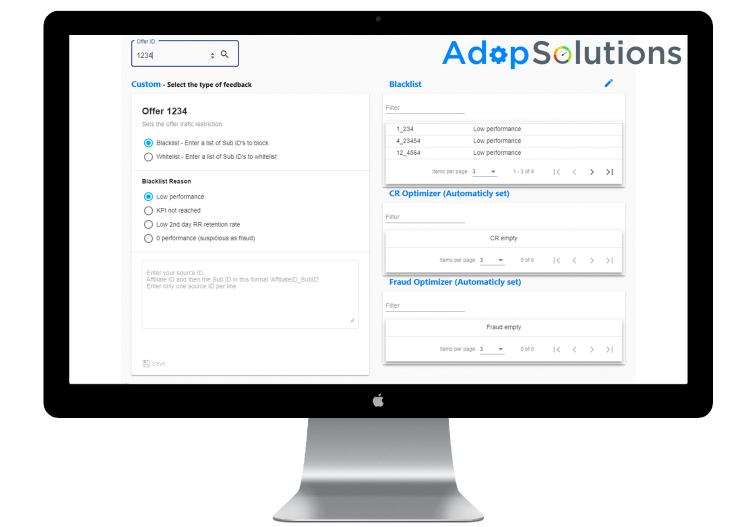 Automate Billing Process
Billoid provides you with huge time savings by automating your billing process, giving you full control on your cash flow while you are staying compliant with any tax legislation at the same time.
Manage the Workflow of Affiliates, Advertisers and Their Documents
item8 is a web-based CRM and Billing SaaS, designed for agencies, advertising and affiliate networks. It manages the workflow of affiliates, advertisers, their documents (including agreements and IOs), legal entities and contacts, as well as bills and invoices.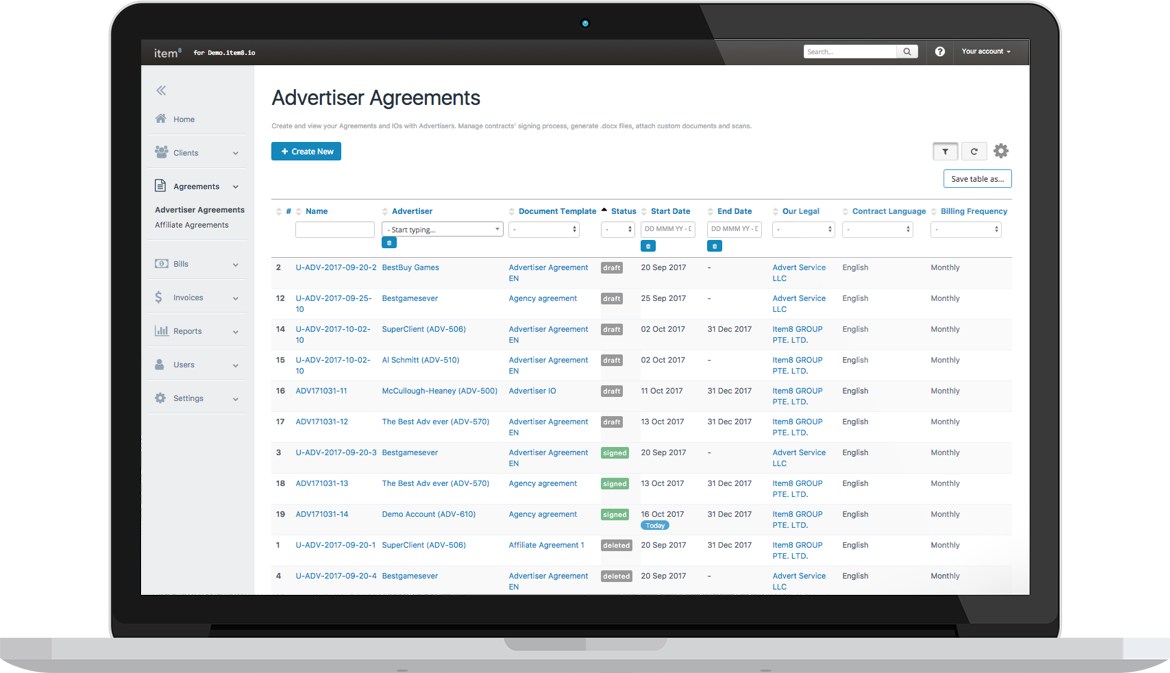 Optimise Your Sales Funnel
Automatically send leads and conversions to HubSpot, Marketo or Salesforce and analyse the data within your CRM system: (more to come). Request more information by contacting your personal Customer Success Manager.
Want to Join Affise Marketplace as a Partner?
If you are a technology vendor working in the affiliate and performance marketing industry and believe that your technology will be of great value for Affise customers, do not hesitate to contact us by emailing to hey@affise.com.