"Design is not just what it looks like and feels like. Design is how it works."
It's encouraging to see that today people understand the real value of digital products built with design thinking. And the famous quote by Steve Jobs accurately reflects the reason we've launched the process of redesigning Affise Statistics.
Statistics section is a very important part of affiliate marketing software solutions that greatly affect the future business strategy and apparently it is the one where marketers spend most of their work time. To fulfill its function at its finest the statistics design should be intuitive, flexible, and as straightforward as possible. Therefore, we've brought a diverse perspective to this part of the Affise platform and released the state-of-the-art Statistics Design.
When creating a new concept, we bring together experience from different areas, such as design thinking, customer development, user experience, latest technologies, etc. The result of this intricate work is something entirely new for the affiliate marketing industry – a fully customizable statistics section with the ability to do the necessary calculations without leaving the platform.
Let's take a closer look at the new features of Statistics.
What's New in Affise's Statistics Design?
Visibility and Order Settings
Visibility and order settings help to get rid of unrelated data, focus on the most significant indicators and arrange statistics columns by order of importance.
Table options enable a user to change the layout / to make the following changes to the layout:
Hide columns

Modify their order
Calculator Widget
Calculator widget is the very instrument to adept Statistics to the specific needs of users from different niches.
Apply formulas and create new metrics and indicators by clicking New Column: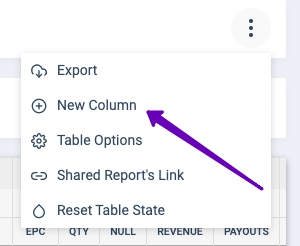 For example, let's create a column for CTR. CTR is the ratio of users who click on an ad to the number of total users who view a page.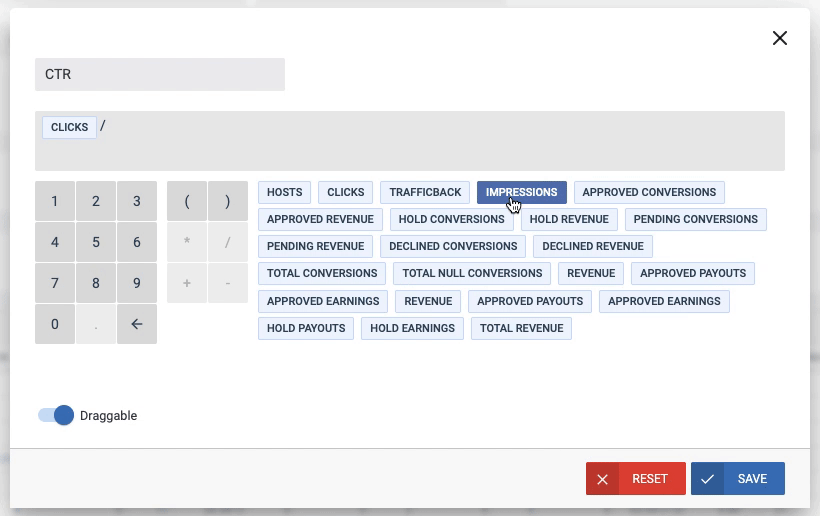 New columns can be removed, and default ones can be hidden.
Renaming of Default Column Titles
In case users need to rename any of the default columns, they can hide the existing column and create a new one with the help of the Calculator widget.
Drilldown Reports
The report includes a unique visualization of multiple data groupings for a better understanding and analysis. This report breaks down the statistics in accordance with various additional parameters.

Put it simply, this technique allows having several reports within one page.

Default Order Update
We simplified the table by removing one headline and Total columns (Conversions part) and changing the order in the Conversions area.
Benefits of Affise's Statistics Design for Different Verticals
Affise is the first performance marketing platform that meets the needs of players from different verticals. New features of the statistics section provide marketers from different niches with all required KPIs and allow them to get rid of all unnecessary metrics and numbers. Statistics customization is a significant step in the direction to make Affise an all-in-one platform for all the affiliate marketers.
Let's take a gambling vertical as an example. The gambling industry includes poker, online casinos, sports betting, etc. Affiliate networks and affiliate programs here differ from other verticals. These differences applied to statistics, especially. The marketers use different metrics and terms in the gambling industry (e.g., Operator stands for Advertiser), they also need to calculate specific KPIs.
With new Affise Statistics, you can add the most basic gambling KPI – Gross Gaming Revenue (GGR) – with a simple formula: total bets minus total wins. This also applies to such KPIs as Net Gaming Revenue (NGR), Average Revenue per User (ARPU), Bets-to-Deposits, etc.
All in all, the new design of Affise statistics allows marketers from any industry vertical to customize the workspace to their unique needs. You can try these statistics features and more for yourself! Sign up for the Affise free trial now!