Following the successful edition of the first course of Affise Academy, we are glad to announce the second Starter Kit for affiliate marketers. The second course is entirely devoted to the greatest fear of affiliate managers – integration process, which is now perfectly explained in our step-by-step guide.
About Affise Academy
Affise Academy is an academy for affiliate marketers where beginners can learn all the basics to start and run an affiliate network, and experienced players learn how to use Affise in the best way to grow their performance marketing business.

Soldier Edition – for Affiliate Warriors
The main goal of the second course is to upgrade your skills in an integration process on both sides: advertiser and publisher. It consists of 6 lessons and a quiz, after which you can become a professional affiliate marketer and a certified Affise user! Among others, you'll get:
– clear scheme of click flow process;
– step-by-step guide of adding publisher and advertiser;
– basics on how to work with different tracking parameters and macros;
– simple steps on how to check if integrations are done successfully.
Become Certified Affise User
Affise Certificate is a real proof of your experience in affiliate marketing and working with Affise platform. This will give you an additional competitive edge over other affiliate marketers and may become your pass into the next level of your career!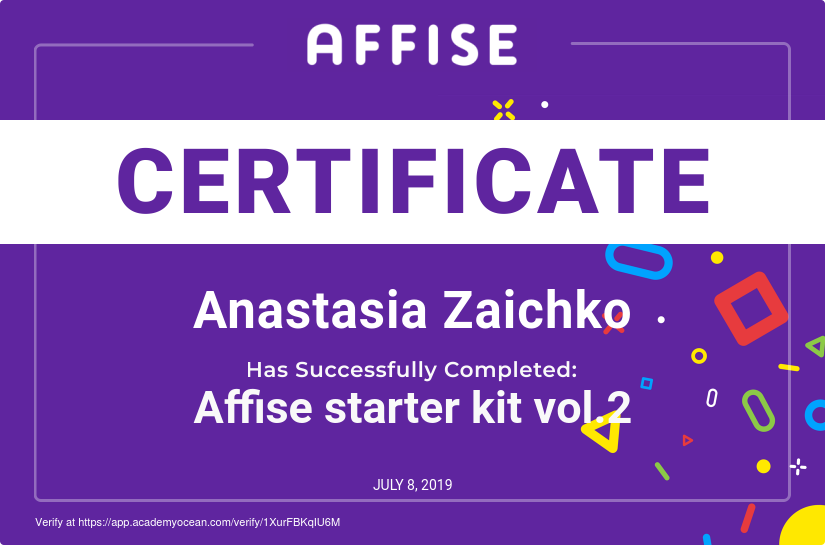 With more (advanced) courses to come shortly, you may consistently upgrade your knowledge, challenge yourself to get better results and achieve more.